Food Plot Question
Submitted: "I have a small little area that I want to plant as a whitetail deer food plot this upcoming weekend. The area that I'm looking to seed is in the woods, but gets more sunlight this time of year than in during the spring and summer because of leaf drop. The hunting area is only about 1/10 of an acre and is located about 30 yards from a small sandy creek. The soil where I'd like to plant the deer food plot is very sandy, but it does have some organic matter on top. The site stays plenty damp because it's low lying, but it still drains well.
What, if anything, can I plant to a fall plot for deer that will grow decently under such sandy soil conditions? And before going any further, let me just say that I do not know the pH of the soil, but am willing to get it tested. I suspect that it is acidic, so I can easily dump a couple sacks of lime on it with the seed planting. Seedbed is prepped and ready to go. It was disced twice last weekend and I broadcast 13-13-13 fertilizer on the plot."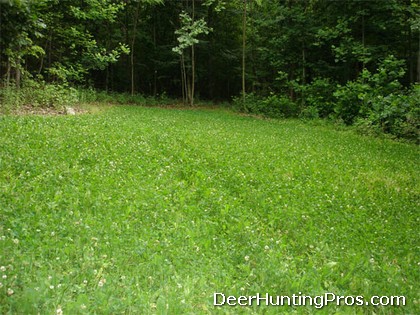 Deer Hunting Pros
Response: First off, the site you have described sounds really good. A food plot located along a sandy drainage or riparian area is a good travel corridor for whitetail deer and the soil sounds like it will work well, at list for a food plot for the fall and winter. The soil preparation sounds like it's in line with what would be recommended, so that all sounds like a winner from what you've stated.
The really issue with deer plots located in the woods has to do with the amount of shade on the plot. Sandy soil, although not the most productive, can do well when planted in the deer hunting season because moisture is typically not an issue. Shade, however, can be an issue for some plants though whether it's hot or cold or what not regardless of the time of year.
If you feel that enough sunlight is getting through, then I would recommend going with turnips, ryegrass and oats for your whitetail food plot. I would suggests about a pound of turnips, a couple pounds of ryegrass and a couple pounds of oats. This should work fairly well. The seed mixture should ensure that at least something grows well for you. Again, sandy soils are not as much of a problem in the fall, but just make sure that the plot is getting enough sunlight and you will be okay.
If you love Texas, you will LOVE this video!