Ravin's R9 Crossbow offers rifle-like accuracy, is the best crossbow for long distance hunting and shooting. The HeliCoil technology allows for ease of handling and delivers devastating killing power. It's superior technology gives hunters an important edge, the ability to close the distance.
Go Long
One of the design advantages provided by HeliCoil technology is the Frictionless™ Flight System. This patented technology allows the string and arrow to both free float above the rail, providing a quieter shot and vastly improved string life by eliminating string friction, noise and fletch clearance. All of these advantages contribute to unmatched, repeatable accuracy, and make for a deadly long distance opportunities while hunting deer or other game.
The Trac-Trigger™ Firing System is another advantage enabled by HeliCoil. This patented system features a built-in trigger sled that slides forward in the rail and clasps directly on the center of the string. This creates a perfectly balanced draw, which is an often overlooked but critical component in accurate and consistent shooting. The trigger sled also contains the safety and anti-dry-fire mechanisms.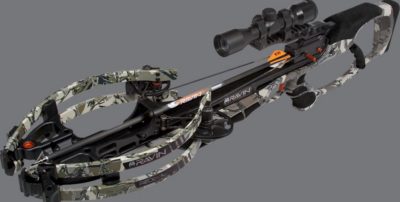 Distance and More
This crossobw can shoot a long way very accurately, but it's also safe, seamless. Another unprecedented design feature provided by HeliCoil technology is the Versa-Draw™ Cocking System. Working in conjunction with the Trac-Trigger Firing System, this ultra-compact, fully-integrated cocking mechanism is built into the sleek stock design. The fully ambidextrous system is mounted internally in the stock and allows for easy cocking and uncocking of the crossbow.
The cocking handle is mounted on the quiver provided with the Ravin crossbow. It is easily inserted in the recessed hole on either side of the stock where slots and magnets hold the handle firmly in place. Once engaged, the bow can be easily cocked and uncocked with minimal effort. There is no need to fire the weapon to uncock it.
It's a quality piece of equipment and probably the best rated crossbow for long-distance hunting and shooting. In our opinion, it's a deer-killing machine!
Ravin R9 Crossbow Distance-Adding Technology
Fully Assembled/Pre Tuned Crossbow
6 Ravin Branded Arrows and Ravin Nocks
Removable Cocking Handle
Quiver/Mounting Bracket
6 Practice Field Points (100 Grain)
100-Yard Illuminated Scope
Built-In Cocking Mechanism
Anti-Dry-Fire/Auto Safety
Built-in Sling Mounts
If you love Texas, you will LOVE this video!