By measure of recently reported sightings, the black bear population in Texas is on the rise. Ask any Texas Parks and Wildlife Department (TPWD) wildlife biologist in West Texas and they will tell you that there is not doubt about it — black bear numbers are bouncing back. Deer hunters concur, with more bears showing up in game camera photos. But more bears means more chances for interaction. As was the case on July 16, when TPWD biologist Ryan Schmidt responded to a report of a bear hit by a vehicle shortly before noon.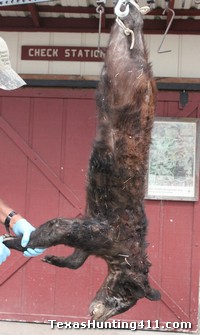 The bear-vehicle collision took place on Highway 90, about 1.5 miles south of Comstock in Val Verde County. The 69 pound, sub-adult, male bear had to be euthanized due to the severity of its injuries. It was reported that several leg bones were broke at the time of the accident, as well as its sternum and, upon further inspection, numerous internal injuries were present. Like white-tailed deer, mule deer or feral hogs, the increasing black bear population in Texas equates to another road hazard for Texas drivers. Most folks in Texas have very little experience with bears. They are endemic to the area, but it has not been until recently that bear numbers have really taken off. From the Big Bend to Austin, increased bear sightings have surprised the public and biologist as well. And bears are not limited to far West Texas. At least one black bear sighting takes place in the Hill Country each year.
Most of these individual bears are wild animals looking for suitable habitat, or even mates, but it is entirely possible that a smaller percentage are released or escaped captive animals. The black bear is on the state endangered species list.
TPWD biologists encourage people to report recent bear sightings. Research is currently underway to determine the status of black bears in Texas. But black bears are not just out west. A study is also underway in East Texas to determine habitat suitability in that part of the state. It looks like Texas' black bear population is quite healthy.
If you love Texas, you will LOVE this video!