Hunters love to discuss deer hunting and deer management. It's just something that we do, whether it's after checking out our latest batch of game camera photos or around the campfire after an evening hunt. The longest-standing debate going is the argument over whether or not spike bucks are actually genetically inferior bucks. One study, centered on the white-tailed deer hunting lands of South Texas, aimed to find out if shooting spike bucks really is justified.
Although a spike antlered buck rarely remains a spike after its first set of antlers, many hunters still believe the mantra of "once a spike, always a spike." Now, the majority of hunters know that this is not true, but will spike bucks produce less on top of their heads in future years than their multi-pointed (yearling) brothers? Past research has only confounded the issue with different studies resulting in conflicting conclusions. Could there be a study that answers this age old question for the deer hunting community once and for all?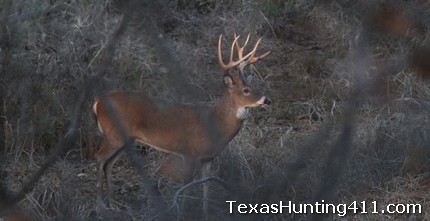 A new, ten-year, landmark study done in South Texas on free-ranging whitetail deer by Dr. James C. Kroll and Ben H. Koerth of the Institute for White-tailed Deer Management and Research at Stephen F. Austin State University in Nacogdoches may provide us deer hunters with an answer. "Because past spike buck studies were conducted on penned animals, the effects of social pressure could not be measured," Dr. Kroll says. "And social pressure has been shown in other deer species to have a significant impact on antler growth."
Furthermore, the previous studies never really examined genetics in the classical sense. So about ten years ago Kroll and Koerth decided to add a field of study to their program that would examine the issue and try to answer a very basic question that went beyond genetics: "Can we look at a yearling buck and predict what he will score at maturity?"
Because of geographic conditions and the fact that Dr. Kroll and Ben Koerth had worked with many South Texas ranch owners in the area on previous projects, it was decided to conduct the landmark spike buck study in the Brush Country of South Texas. "Our research methodology was simple," says Dr. Kroll. "First, we decided to capture only buck fawns and yearlings. Because so much controversy exists about aging deer by tooth wear, we wanted to make sure we knew the age of the bucks we were capturing.
The researcher's plan was to capture as many buck fawns and yearling bucks as they could each year, and then attempt to recapture them over the next eight or nine years so that they would have a large enough sample size for statistical analysis. Whitetail deer hunting in South Texas is a big deal, but so has been the debate over shooting spike bucks. Read the rest of this article on whitetail deer management and hunting: Shooting spike bucks for deer management.
If you love Texas, you will LOVE this video!