Question: "My father and I own a small tract of land that we have owned for four years and use for whitetail deer hunting. The land is 185 acres and was low fenced until 2010 when the neighbor high fenced two sides of the property. Prior to the high fence I had a good buck to doe ratio but know all we is a few young bucks on game camera. Most of the bucks I see are good 8 to 10 point deer with lots of potential for antler growth. The deer herd seems to be healthy, as in lots of deer. I think reducing the deer herd would be a good idea.
Here is the deer hunting million dollar question: Do I shoot the cull bucks and hope the neighboring ranches do not shoot the better bucks or do I go for the good, but young bucks now? I know the bucks in our area move around a lot because a guy down the road shot a cull buck that I had on game camera last year. I know that it is hard to manage 185 acres, but I do not want to high fence the place a create an aquarium of deer. Looking to improve deer hunting but don't just want to raise good bucks for neighboring tracts of land. What say you?"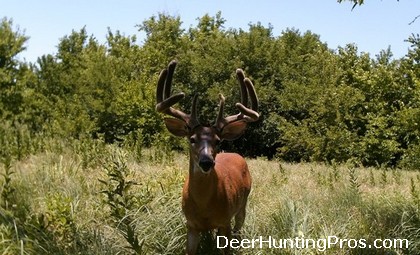 Deer Hunting Pros: First, I would suggest you think about your deer management and deer hunting goals. It sounds like you want better bucks. That means you want older bucks, but you are also aware that you are limited in that you only control 185 acres. My suggestion would be to to shoot the undesirable bucks this year. This will help clear out the competition for the better bucks, as well as the does, in the area.
Sometimes knocking the numbers down will cause mature bucks in the area to move onto your land. When it comes to managing a whitetail herd and improving the deer hunting in an area you have to make hard decisions. One important thing to keep in mind is that if there are does then there will be bucks. Take out the trash and leave the better bucks for the next year or two. Try this for at least two to three years. If the bucks you are passing up are not showing up down the road, then they are being taken by the neighbor or the neighbor's neighbor.
It's easy to say that you will not have mature bucks if you shoot the young bucks, but it's the truth. Passing good middle-aged bucks is hard when you are not sure that they will make it. But all you can do is try. If you find that the bucks are "disappearing," then you may have to lower your deer management expectations. In this case, your deer hunting can still be good even though your ideas about how you hunt the property may change.
If you love Texas, you will LOVE this video!