Ducks Unlimited (DU) has achieved a conservation milestone with more than 14 million acres of habitat conserved in North America. The groundbreaking number is a cumulative accomplishment of the millions of DU volunteers and partners who have been a part of the organization over the past 80 years.
DU's Wetland Habitat Programs Grow
"As we celebrate our 80th anniversary, this milestone is a fitting tribute to the hard work of each and every volunteer, partner and staff member who has contributed to our mission over the past 80 years," said DU CEO Dale Hall. "If not for their dedication and commitment to conservation, this accomplishment would not have been possible."
Such conservation gains did not come easily in the face of ongoing threats to waterfowl and their habitats. Loss of wetlands across North America is a challenge DU volunteers take seriously, and their efforts will continue into the future. Although DU has successfully conserved more than 14 million acres of critical wetlands and associated habitat since our founding in 1937, wetland losses continue.
Texas Prairie Wetlands Project
The Texas Prairie Wetlands Project (TPWP) started in 1991 when DU teamed up with the Texas Parks and Wildlife Department and the U.S. Fish and Wildlife Service. The results has been tremendous for wetland habitat, wintering waterfowl and Texas property owners, particularly those along the Gulf Coast.
TPWP projects focus on harvested croplands, moist-soil areas, emergent wetlands and other created wetlands to increase biodiversity for waterfowl and other wetland-dependent species.
In return, landowners sign a minimum-10-year wetland development agreement and commit to managing and maintaining the wetlands. TPWP works closely with rice producers to improve fields and infrastructure for water conservation, production and habitat management.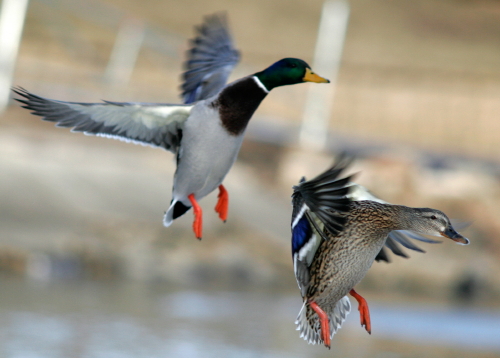 Each year, TPWP projects provide critical staging and wintering habitat for thousands of waterfowl, including white-fronted geese, snow geese, northern pintails, green- and blue-winged teal, gadwalls, northern shovelers and redheads. Local birds also benefit greatly. Resident fulvous and black-bellied whistling ducks, as well as mottled ducks, rely heavily on permanent and semi-permanent wetlands for nesting and brood rearing during the spring and summer.
Many landowners utilize TPWP projects for goose and duck hunting leases and ecotourism. Many sites are also on historic agricultural fields. By working with private landowners to increase and restore wetland habitats, water quality and water quantity, an issue of great concern in Texas, can be improved.
Mitigating Wetland Loss
In the last 50 years alone, the United States has lost more than 17 million acres of wetlands. As human populations grow, demands for clean and plentiful water for use at home and in many agricultural and industrial processes also increase.
DU, working with partners, provides valuable, on-the-ground solutions that benefit waterfowl populations and maximize water resources through the dynamic natural functions of wetlands. In addition to providing habitat for waterfowl, wetlands naturally slow and store water to help recharge watersheds and aquifers, improve water quality through biological and physical processes and provide important wildlife habitat and recreational opportunities.
Waterfowl Management Through Habitat Conservation
"DU's policy efforts and the hard work of our volunteers, partners and staff will be more important than ever in the coming years," said Dr. Tom Moorman, DU's acting chief conservation officer. "DU, along with our waterfowl conservation partners at the state, federal and private levels, must continue with the cooperative progress that led to 14 million acres conserved, and expand that effort wherever possible to meet ongoing or new threats to wetlands and waterfowl habitat in North America."
The groundbreaking number is a perfect example of how hunters and others with a passion for waterfowl and wetlands conservation can come together for a common goal.
DU's mission has always been to conserve, restore and manage wetlands and associated habitat for North America's waterfowl, and this milestone is a direct reflection of that statement.

About Ducks Unlimited
Ducks Unlimited Inc. is the world's largest nonprofit organization dedicated to conserving North America's continually disappearing waterfowl habitats. Established in 1937, Ducks Unlimited has conserved more than 14 million acres throughout Texas and the U.S. thanks to contributions from more than a million supporters across the continent.
Guided by science and dedicated to program efficiency, DU works toward the vision of wetlands sufficient to fill the skies with waterfowl today, tomorrow and forever. For more information on our work, visit www.ducks.org.
If you love Texas, you will LOVE this video!