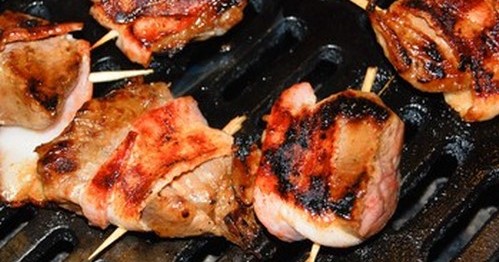 This grilled venison backstrap recipe is one of my favorite summer time treats, but I also enjoy this one just sitting around a campfire. It works great for an evening of grilling "with the guys" as a main course or as an appetizer. You can't go wrong!
Ingredients
2 pounds venison backstrap
1 1/2 pounds thick sliced bacon
1 quart apple cider
24 ounces of barbecue hickory sauce
Directions
Cut venison backstrap into 2 inch chunks and place them into a shallow baking dish. Pour enough apple cider in the pan to cover the venison chunks. Cover, and refrigerate for at least 2 hours. Remove, and pat chunks dry. Discard apple cider and return venison back into the dish. Pour the barbeque sauce over the chunks, cover, and refrigerate for at least 2 to 3 more hours.
Preheat an outdoor grill for high heat. Remove venison from the refrigerator and let stand until no longer chilled, about 45 minutes. Wrap each piece of venison in a slice of thick-cut bacon and secure with toothpicks.
Prepare the grill grate by brushing with olive oil when hot, then place venison pieces on the grill so they are separated. The bacon will cause flaming as the grease drips off, so keep an eye out for flare ups. Grill, turning occasionally, for about 15 to 20 minutes, until the bacon develops burnt edges.
This venison backstrap recipe goes great with baked beans, dirty rice, or potato salad. And, of course, it wouldn't be grillin' without a beer!
If you love Texas, you will LOVE this video!