Most landowners want to improve deer habitat and improve deer hunting. However, a major challenge for many landowners in the Texas Hill Country is the proper management of white-tailed deer populations. Proper management includes the challenges of harvesting enough does to have the desired impact on the population density and the habitat in addition to allowing bucks to mature enough to be of good quality. Landowners, or their hunters, will often say, "If I don't shoot the first decent buck I see, that buck will just jump across the fence and my neighbor will shoot him" – even though it may be a young buck far from his prime. Good deer management means abandoning that philosophy.
So where can one start? Reducing deer numbers to appropriate levels will improve overall health of the animals and improve the quality of the habitat for deer and other wildlife. This population management is a big part of deer habitat management. In addition, a balanced harvest of bucks and does can also improve the sex ratio as well as the age structure of bucks, resulting in better quality mature bucks.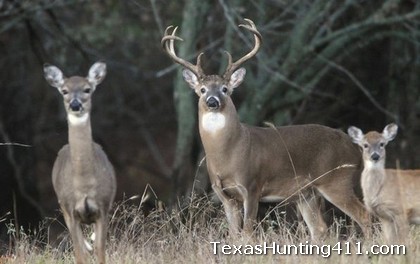 Another major challenge for some landowners is getting the benefit of livestock grazing without owning the animals. Cattle can be both bad… and good! You've no doubt heard this before, "I just don't want to mess with livestock anymore." While periods of rest can be very beneficial to habitat, the long-term removal of grazing from the land can be detrimental in some cases. Periodic cattle grazing can maintain and improve native grass stands and at the same time can increase forbs (wildflowers) that are part of any healthy Hill Country property.
Each of these land management challenges impact the habitat and deer herds found in an area. They can be addressed by actively managing the plants and animals found on your property. You can also get assistance from the Texas Parks and Wildlife Department (TPWD) or join a local Wildlife Management Association in your area. Wildlife co-ops have been formed around the state by groups of landowners interested in properly managing wildlife populations and habitats.
Many WMAs were formed around the goal of improving the quality of white-tailed deer. Landowners in these WMAs know that their neighbor shares the same goals and objectives for the deer population and that together they can have the desired impacts on the population and habitat. Even if you don't hunt you can work with your neighbors to have the proper number of deer harvested in your area so you have healthier deer and healthier habitat for all wildlife.
Landowners can also work with their neighbors who have livestock and allow their land to be grazed. This way the landowner without the livestock gets the benefit of grazing without the day to day work of owning the animals. The key to using livestock as a tool in land management is periodic rest. Even landowners with small acreage can benefit from working with their neighbors. The landowner just needs to think of their property as a pasture that the livestock are rotated through for a short period of grazing.
Deer management is about manipulating the plants as wells as the animals found on your property. If you are serious about doing something for deer or any of the wildlife found on your property, I'd recommend contacting a wildlife professional to get you started in the right direction.
Whether you want to improve the quality of the deer and other wildlife on your property, or use livestock as a tool for habitat improvements, it may be as simple as looking across the fence for a partner in good land stewardship. TPWD has county biologists that can meet with you free of charge, already paid for by your hunting license purchase. They can give your some ideas to improve deer hunting on your property. Additionally, you may be able to get valuable information from a WMA in your area. Build it and they will come!
If you love Texas, you will LOVE this video!