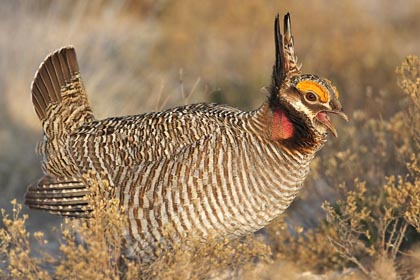 For landowners interested in Lesser Prairie Chicken, their is a new bird in town! The website lesserprairiechicken.org is new to and makes its debuts this month. The idea behind the site is to help Texas landowners interesting in this a rare native bird whose fate is becoming increasingly linked to the future of land use, agriculture and industry in the Texas Panhandle and Rolling Plains.
The lesser prairie chicken has been a candidate species considered for listing under the federal Endangered Species Act since 1998. Like all rare animals, the chicken's existence depends on the rare wildlife habitat that they require—native prairie. Biologists say efforts to protect and restore grassland habitat for the lesser prairie chicken will benefit many other wildlife species that use these same areas and also provide recreational and ecological benefits for people. Grassland restoration will also enhance water quantity and quality.
The new prairie chicken website was created by the Dorothy Marcille Wood Foundation and Texas Parks and Wildlife Department to inform and educate ranchers, farmers and other landowners with all the information they need in one place. That includes information on the Candidate Conservation Agreement with Assurances (CCAA), and habitat management incentives, programs, and cost share assistance from various state, federal and private sources, including a search tool to help determine which programs best fit their operation.
If you love Texas, you will LOVE this video!