A lot of things can happen while out hunting white-tailed deer. Some of the things hunters see while on stand are quite simply amazing, and we wouldn't believe them had we not been there to see them in person. But sometimes we have proof of the crazy things that happen in the wild, like this buck crazy buck with a common base spanning from antler to antler. That's right, just one base all the wall across the skull plate!
Jeff B.: "A friend and I went deer hunting on the morning of October 16. It was a windy morning and warm. I had not observed much in the way of deer movement and I was getting ready to climb out of the tree and head home. Then, all the sudden I heard a noise and caught what I thought was a deer running through the trees just West of me. I grunted a few times, but nothing happened. Then all the sudden a doe ran through the trees.  I knew there had to be a buck coming right behind her. Within seconds, he came out of the trees and stopped about 50 yards from me. I looked at him quickly knowing that I didn't have much time. I noticed that he was a unusual looking buck, so I drew my bow and let it go! I waited a little while, but got down and found my arrow. By that time, my buddy was with me and I pointed to him which way the buck had ran. As it turned out, a big 10 point was standing on the hill we could see. My friend said to me, "Is that the one?" I said, "No, mine is much smaller but crazy looking." Well, after a little more searching we found my crazy antlered buck with a huge common base between both antlers! We loaded up the unique buck and  got him home. As we were skinning the buck I noticed that he had been recently gored. It had to be by the big 10 point that was standing on the hill, not far from where we recovered my buck.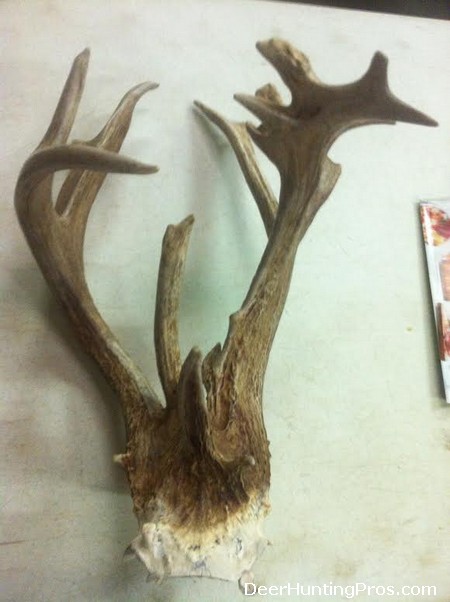 If you love Texas, you will LOVE this video!