There is nothing more fun than quail hunting in Texas with the use of some good bird dogs. Quail populations can be boom or bust depending on the year, but the long-term average has been on the decline. Texas still offers good quail hunting, but the birds are not found in as many places as they used to. Of the two remaining stronghold regions for quail in Texas, the Rolling Plains has not had a quality quail hunting season during the past three years.
But the quail up North are not alone. South Texas has not had a quality quail hunting season during two of the past three years. For South Texas, it's been reported that juvenile:adult age ratios were lower than 1:1 during those years. The problem, as experts see it, is that an extreme and persistent La Niña oscillation in the Pacific Ocean has been the driver behind historic drought and excess heat during much of this period.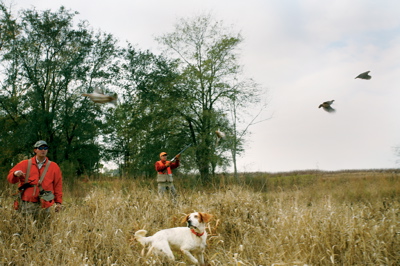 The La Niña oscillation broke down a bit in late 2009, and we received some well-deserved rain in 2010. In South Texas, bobwhite quail responded quite well to this influx of rainfall, and the 2010-2011 quail hunting season was very good. Quail researchers recorded juvenile:adult age ratios as high as 5:1 in many areas. That is the kind of reproduction it takes to sustain quail and provide quality hunting opportunities.
Bobwhite and scaled quail in the Rolling Plains also responded to the 2010 rainfall pulse; quail surveys found that their numbers increased by 20% from 2009 based on Texas Parks and Wildlife Department roadside count data. However, quail numbers in 2009 were historically low and even with this increase, the 2010-2011 quail season in the Rolling Plains was lousy and quail hunters were extremely disappointed.
Hunters were left scratching their heads as to why the 2010-2011 quail season in the Rolling Plains was so terrible, when in fact it was simply unrealistic to expect that quail numbers could triple or quadruple in one year.
Since that time, La Niña—has come roaring back, delivering even more drought and heat. The result was virtually no quail production in either the Rolling Plains or South Texas during the 2011 nesting season.
The result of such extended drought and excess heat is that under such conditions, quail production essentially goes to zero no matter how much good quail habitat and usable space is available. In fact, researchers have 10 years of management data that shows more than 90% of the variation in annual production of bobwhites in South Texas is explained by cumulative rainfall (habitat quality) from April through August.
In habitats such as those found in South Texas, adequate rainfall is the key driver of quail populations, so long as ample habitat and usable space for quail is kept on the landscape. The current plight of quails in Texas has caused many people, including those who wield great influence over public opinion, to call for cutting back quail seasons in Texas by either shortening the season, reducing the bag limits, or both.
While these opinions are well intentioned, substantial research on quail has found that shortening the season or reducing bag limits will do nothing to solve the plight of quails in Texas. It is impossible to repair quail populations with regulations. It has been tried numerous times. It has failed every time it has been tried. The quail hunting in Texas has suffered due to drought conditions. Even quail populations found in good habitat have had pitiful production. Let's hope it rains.
If you love Texas, you will LOVE this video!