Hunters are looking for a product that can give them an edge while out whitetail deer hunting. Deer attractants are seen as a way to do just that. A new product from Primos they called Swamp Donkey may put another arrow in the quiver of hunting taking to the woods. According to the manufacturer, they have been field testing, modifying and documenting the amazing results of Swamp Donkey for over 7 years! Can it help you this deer hunting season? Check out what Primos has to say:
"Swamp Donkey, which until now, has been used exclusively for deer hunting on a select number of professionally managed game ranches. Now, hunters serious about drawing big deer from their hiding spots and out into the open can utilize Swamp Donkey's™ line of easy-to-use attractants to greatly improve their odds for success.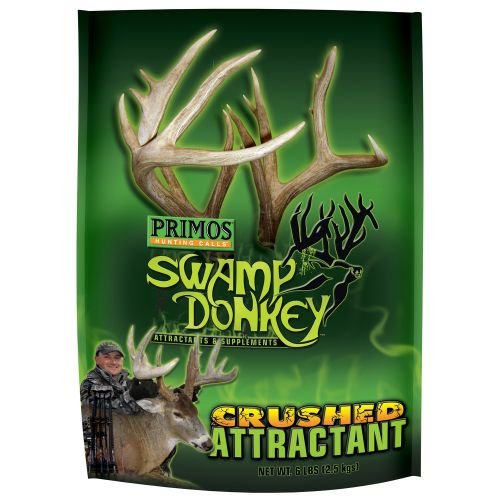 The Swamp Donkey line includes the extremely popular Crushed Attractant, Pellet Attractant, Molasses Stuffed Protein Block, Spray attractants, and a Granular Mineral Extreme Supplement. At prices ranging from as low as $6.99 up to $24.99, hunters can afford to establish multiple sites on their deer hunting properties that promise to catch the attention of big whitetail bucks and keep them coming back.
Unlike food plots for deer, there is no tilling, planting or fertilizing. Simply spread a 6-pound bag of the crushed or pellet deer attractant directly on the ground in a 4 to 5 foot strip, set out a block or apply the spray to existing vegetation and start hunting the deer in your area, whether that be Pennsylvania or Texas. Watch the deer come to you!
While food plots, oak stands and crop fields are great at attracting deer to an area, few deer attractant products can draw deer to a specific spot or put a giant buck right under your stand like Swamp Donkey. Use it year-round so that deer develop a pattern of visiting sites on a daily basis. If baiting is not permitted during deer hunting season, use it the rest of the year when legal to develop those same patterns.
Does will continue to visit the site out of habit just as much as bucks, providing a double incentive for dominant bucks to check the Swamp Donkey site leading up to and during the whitetail rut. Creating multiple Swamp Donkey sites on a property will give hunters numerous options to not only set up trail cameras and monitor deer patterns across the entire tract, but also abundant stand options depending on wind direction.
Swamp Donkey will attract bucks and does, but it's scientifically proven ingredients also promote overall health, energy and blood flow for maximum antler growth and body weight in whitetail deer. Swamp Donkey deer attractant works great in conjunction with food plots. When used throughout the year, it helps maintain consistent nutrition among local whitetail deer herds, even when crops or food sources fail due to drought or changes in land use. Improve your deer hunting and bag that old buck with Swamp Donkey!"
If you love Texas, you will LOVE this video!