Most reports indicate that the Texas dove hunting season opened up with a bang in the North Zone on September 1. Good hunts were reported all throughout Central and North-Central Texas based on outfitter reports. Harvested corn and milo fields proved successful in the blackland prairies around Elgin and Taylor for both mourning and white-winged doves according to Texas Parks & Wildlife Department (TPWD) biologist and game wardens.
"A lot of hunters were limiting out in the morning, and anyone who really wanted to got their limit Sunday if they hunted morning and evening," reported Lt. Mike Mitchell, the TPWD's Law Enforcement Division's technology and special projects officer. Mitchell spent Sunday riding with a game warden and reported their law enforcement activities real-time via Twitter. The wardens contacted scores of hunters, and Mitchell used a department smart phone to send 36 tweets, many accompanied by photographs and links to further information.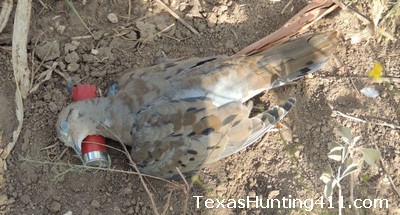 Federal migratory bird regulations prohibit hunting mourning and whitewing doves over bait, but doves can be attracted both effectively and legally in throughout the state using managed fields. Fields managed as wildlife food plots or where normal agricultural practices have occurred are perfectly legal for dove hunting as long as there is no bait is placed out for birds.
Baiting includes placing grains, salt or other attractants in an area used for bird hunting.
Generally the most productive dove fields have sunflowers, but wheat, millet and even native plant fields can yield quick limits for hunters willing to make the most of what they've got.
Dove field preparation is relatively simple, although weather, agricultural practices or other food plots for doves in the surrounding area will influence whether doves will use the field. Careful management and a little luck can lead to some really hot dove hunting, and I'm not just talking about the weather.
If you love Texas, you will LOVE this video!