It's official, the Texas Parks and Wildlife Department (TPWD) draw hunts are online as of today! Hunters looking to step foot on public hunting lands can enter for hunting opportunities across the state of Texas. The new online catalog of hunts is available and applications are being accepted. Hunters can browse through the available hunting opportunities online or download a printable PDF.
Talking Public Hunting
TPWD says that over the last several years, a lot of thought and planning went into creating the new online drawing system. The new draw hunt system replaces one that was inefficient and labor intensive; it will improve the way applications are submitted, winners are selected for hunts, and permits are issued, allowing hunters to check their status online anytime and pay application and permit fees by credit card. Anything that saves taxpayer money and makes my life easier sounds like a good idea.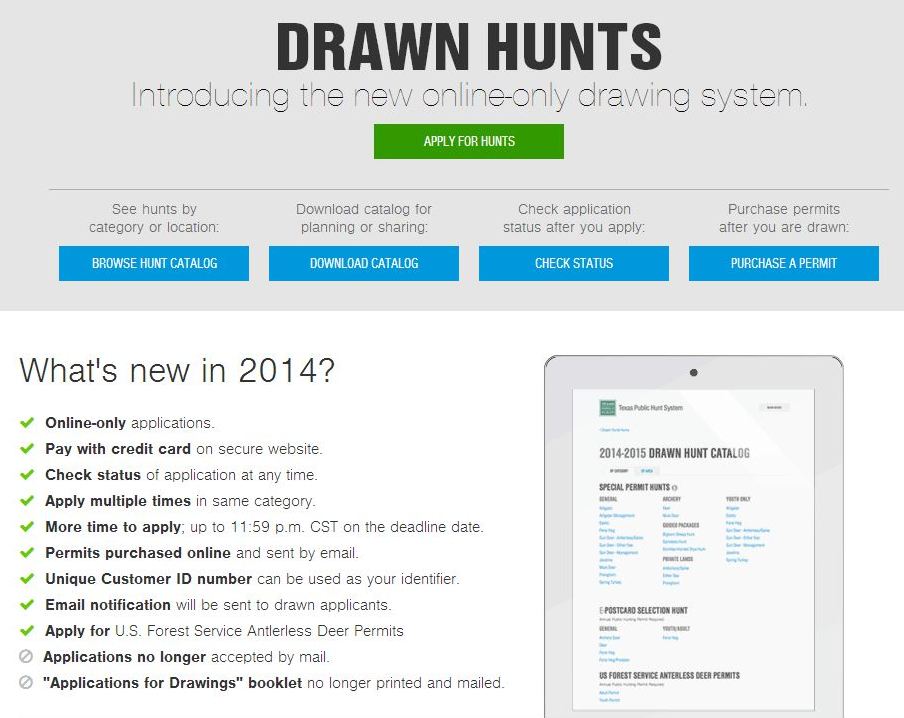 Draw Hunt Permits Available
The online system includes TPWD's special permit hunts, e-postcard selection hunts for a limited number of areas and US Forest Service antlerless deer permits. Special permit hunts include General, Youth Only and Adult Only categories for a variety of species including alligator, white-tailed deer, mule deer, exotics, feral hogs, javelina and turkey.
Forest Service permits include a limited number of permits provided to hunt antlerless white-tailed deer during the general open season on Alabama Creek, Bannister, Moore Plantation and Sam Houston National Forest Wildlife Management Areas (WMAs). No application fee is required for e-postcard or USFS hunts.
Entering TPWD Drawn Hunts
In a complete 180 degree move, paper applications are no longer accepted. The 2014 TPWD draw hunt applications will only accepted online and any mailed paper applications will be returned to the sender. It is absolutely necessary that interested hunters have access to a computer. For those of you reading this article, you will be fine. Others will have to head down to the local public library or get help from a friend or relative who has internet access.
There are no residency restrictions, so Texas residents and non-residents can easily apply. Web-based entry makes it easier for residents to enter, but also drastically increases the ability for non-residents to enter.
Youth applicants for Special Permits draw hunts must be between 8 and 16 years old. Supervising adults must be at least 18 years old. Youth applicants for E-Postcard hunts and US Forest Service Permits must be under 17 years old.
If you love Texas, you will LOVE this video!