The Eastern spring turkey hunting season in East Texas includes 28 counties that have an open season. The hunting season runs April 15 through May 14 this year. According to Jason Hardin, Turkey Program coordinator for Texas Parks and Wildlife Department (TPWD), the Eastern turkey population remains stable, but is not expanding to the degree that biologists have hoped.
"Easterns across most of Texas have not shown much growth outside of a few areas stocked in 2007-2008," he said. "Those stocked sites were part of a research project examining a new stocking strategy known as super stocking."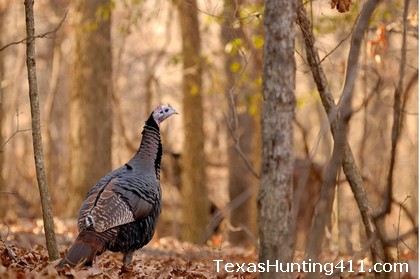 This turkey stocking method calls for flooding the best available East Texas habitat with at least 80 turkeys (60 females and 20 males). The old stocking method only placed 15-20 birds per site, which were more susceptible to other issues because of low initial numbers. Following the positive results of this "super stocking" research, TPWD is now looking for large, high quality sites to be evaluated as potential future releases sites. These sites can be single ownership or a cooperative on private or public lands.
East Texas hunters are reminded that all Eastern turkeys must be taken to a check station within 24 hours after harvest. To find the turkey check station nearest you, contact a TPWD field office or call (800) 792-1112 for more information. The turkey hunting in Texas can be good, but East Texas is a little more difficult. With warmer than normal temperatures, the turkey hunting should be as good as it can get early in the season.
If you love Texas, you will LOVE this video!