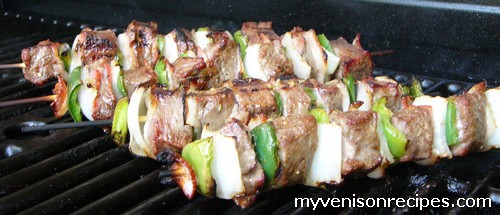 There is never a bad time to fire up the grill for this venison kabobs recipe. Whether it be for the Fourth of July or even during late winter, these kabobs—complete with vegetables—are a crowd pleasing treat to eat! Serve these venison kabobs right on the skewers or remove the venison and vegetables and serve the grilled offerings over rice. Simple, yet sensational!
Ingredients
1.5 pound venison steak or backstrap
1 medium white onion
1 bell pepper or 3 large jalepeno peppers
5 slices thick-cut bacon
Zesty Italian dressing
Salt, pepper and garlic to taste
4, 8+ inch skewers
Directions
Cut the venison steaks or backstrap into 1 1/4 inch cubes. Cut bacon and onions into 1 1/4 inch pieces. After removing the seeds, do the same with peppers. Place venison chunks on skewers, sandwiched by bacon slices, with peppers and onions in between pieces of meat. This alternating technique will sandwich meat chunks and vegetables, providing moisture and flavor during the grilling process. Season with salt, pepper and garlic to your liking.
Grill venison kabobs over medium-high heat, turning and mopping with Italian dressing about every 2 minutes. Grill until the meat is almost cooked throughout, about 10 minutes. Remove the kabobs from the grill and let them rest for an additional 5 minutes, then serve. This venison kabobs recipe also works with vegetables such as squash and zucchini on the skewers too.
If you love Texas, you will LOVE this video!