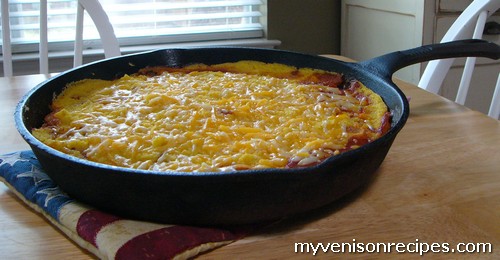 This venison tamale pie recipe is a favorite casserole of mine. It's easy and it has the Tex-Mex flavor that my family really enjoys. It goes great with black, refried or charro beans. We love making this dish especially during the cooler months, but it's a winner throughout the year!
Ingredients for venison tamale pie casserole:
1 pound ground venison
1 cup chopped onion
1 cup chopped green pepper
1 8 ounce can tomato sauce
1 10 ounce can diced tomatoes and green chiles, drained
1 12 ounce can whole-kernel corn, drained
1 1/2 cups shredded cheddar cheese
1/2 teaspoon comino (cumin) powder
3 teaspoon chili powder
1 teaspoon garlic powder
1 teaspoon salt
Pepper to taste
Ingredients for tamale pie corn meal topping:
3/4 cup yellow corn meal
2 cups cold water
1/2 teaspoon salt
1 tablespoon butter
Brown ground venison with chopped onion and green pepper until meat is just done. Then drain and add everything except for the shredded cheese. Simmer the mixture for about 20 minutes to let the flavors come together. Next, mix in the cheese and stir until melted. Spoon the meat and vegetable portion of the venison casserole into a greased, large cast iron skillet or a 9 x 13 inch baking dish.
For the corn meal topping, stir the corn meal and salt into the cold water. Continue to cook and stir the mixture over medium heat thick. After the mixture thickens, add the butter and mix well. Spoon the corn meal topping over the venison and vegetable mixture. Place the venison tamale pie casserole in the oven and bake at 375 degrees for about 45 minutes. Garnish with additional shredded cheese and cilantro, if desired. Serves 6 normal folks or 4 hungry Texans!
If you love Texas, you will LOVE this video!