Most hunters do not get excited about seeing a spike buck deer hunting, but there are spikes — and then there are SPIKES. Texas hunter Wes Wyrick recently harvested a spike of epic proportions which could go down in the record books as the biggest whitetail spike yet. Wyrick has a hunting lease in Val Verde County where he maintains game cameras to monitor deer in the area. The big spike deer definitely stood out, but it took some time for the hunter to get him in his sights.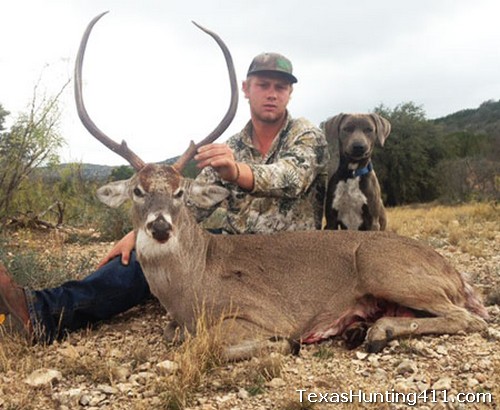 LSO News: The antlers, each approximately 24 inches long, curve gracefully above the deer's head to form a towering, smooth semicircle. If the length and symmetry weren't impressive enough, Wyrick estimated the deer to be about 8-1/2-years old. All of this adds up to an once-in-a-lifetime kill.

"I knew I would never see another deer like that," Wyrick said of the first time he saw the buck's image captured on a game camera. "I was like, 'Holy crap, I need to shoot that deer.'"

Wyrick has "been hunting since he could walk" and, when he isn't hunting recreationally with buddy Cody Garrett and loyal dog, Newt, he is either studying wildlife at Texas A&M University-Kingsville or working as a gunner for Southwest Texas Helicopters shooting pigs. Needless to say, Wyrick knows a good deer when he sees one.



The hunter said there was no ground shrinkage on this big spike-antlered buck. The buck's antlers total 48 2/8 inches in length, enough to put Wyrick in the lead for "Longest Spike" in three different deer contest. Looks like everything is really bigger in Texas, including spike bucks.
If you love Texas, you will LOVE this video!