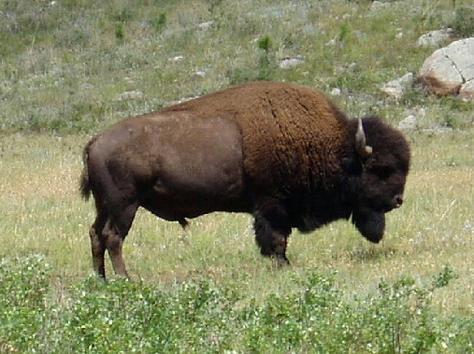 If you have never been to the Caprock Canyons State park then you are really missing out. Not only is this Panhandle-located park beautiful, but it's home to the the Caprock Canyons or Texas State Bison Herd. These buffalo, as many commonly call them, are descendants of the historic bison herd that Panhandle ranchers Charles and Mary Goodnight saved from extinction. It was in 1876 that Goodnight captured some of the last of the great southern plains bison herd and placed them on his JA Ranch to preserve them for posterity.
However, it was not until 1997 that JA Ranch owners donated the bison to the State of Texas and Texas Parks and Wildlife Department (TPWD). Then the animals were moved to Caprock Canyons in 1998. The small Texas State Bison Herd is thus all that remains of the vast southern plains herd that prior to the 1870s was estimated to number between 30 to 60 million head. The American bison were almost totally wiped out when the last of the plains Indians were driven from their homeland and the railroad brought hordes of buffalo hunters who slaughtered the animals for their meat, hides and horns.
The Goodnight Herd was one of the five foundation herds that supplied stock to save American bison from extinction and the only southern plains bison herd established. The Caprock Canyons bison are the last descendants of the herd which supplied wild stock for Yellowstone National Park, in addition to some of the largest zoos and ranches in the nation. The bison brought from the JA Ranch to the park were genetically tested, and TPWD kept only those which had no cattle DNA.
Through continued study and genetic mapping of the Texas State Bison Herd, researchers have isolated three unique genetic markers in their DNA. Found only in the Goodnight Herd descendants, presence of these genes supports the claim that these buffalo are all that remain of the southern plains subspecies and are separate from northern plains and woods bison subspecies.
If you love Texas, you will LOVE this video!