Summer in Texas is always a hard time for white-tailed deer. It's just a given. But this year is tough on deer across the state, especially those located in ecoregions that primarily have thin soils. This includes much of the greater-central portion of Texas as well as the Hill Country. Unless you are actively involved in management on your property, I wouldn't expect a stellar deer hunting year. Reports from Clay County looked pretty bad, but apparently there are some areas where deer habitat is still in okay shape.
"Hot and dry but our place is in Mills County is in really good condition. The creeks ran a couple of weeks ago, so there is water in the deeper holes. The brush, greenbriars and forbs are still looking decent too. There have been no cattle on our 320 acres since April 1, so the little bit of growth that we got is still there. Having no cows has really saved the browse for the deer.

There are other ranches around that have whitetail deer that are really beginning to look bad, with ribs showing. Not good with fawns on the ground. We have had protein out since mid-January and we are seeing the benefits with antler growth coming on strong. The attached photo shows you where the bucks are currently, so I think our hunting will be better than average this year. We are located about 10 minutes from Goldthwaite."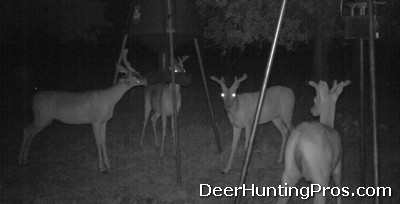 Weather, especially precipitation, is something that happens on a local level. There are always some parts of counties or ranches that will get more rain that others in a given year. Plus, some deer can cope better in stressful situations. That reminds me of the great non-typical buck shot in Mills County in 2010. Anyway, it sounds like the ranches in this hunter's area may have lucked out this go around, but I'm not sure how the rest of the county will fare this deer hunting season. If you hunt there, leave a comment and share with us all.
If you love Texas, you will LOVE this video!