With archery season in full-swing and the general white-tailed deer season just around the corner, it is definitely time to think about deer movements and patterns. Understanding where deer are found and how they move is key to getting your whitetail buck this season. Taking advantage of deer movement patterns will increase your odds of seeing a shooting more mature bucks. Most deer hunters know that deer move early in the morning and late in the evening, but they don't stop there.
During early archery season, white-tailed deer will usually move just before dark. At this time of the year, bucks may still be hanging out in bachelor groups, however, bucks will usually start making scrape lines. Bucks can be patterned on these scrape lines, but the problem with hunting these scrapes is that the bucks are visiting them after dark. In short, hunting scrapes in the early season is not the best way to bag a buck.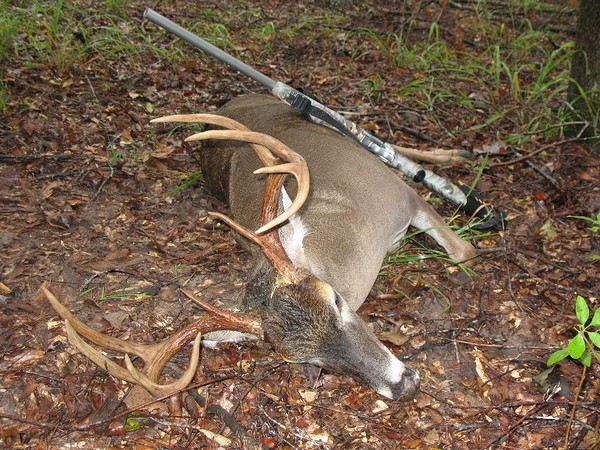 As the deer hunting season ages and the air temperature cools off, whitetail will begin to increase their movement. In fact, it is at this time that hunters will typically start seeing more movement in the afternoons. With this in mind, this is the period of time to start hunting scrapes. This is because most of the bucks in an area will begin actively checking scrapes found in their "community."
White-tailed deer movement, especially bucks, will drastically increase in November due to the onset of the breeding season. As the rut approaches, bucks will start making mental errors as the physical desire to find "hot" does takes priority to remaining invisible. It is at this time when a deer hunter has the greatest opportunity to capitalize on their mistakes.
Hunting the rut is not a new idea, but some hunters take the wrong approach by sitting over feeders. This can work, but a better option is to cover more country. I usually like to hunt in areas where I can see a lot of real estate. Giant food plots will work too. This increases my chances of seeing bucks passing through looking for or chasing does. The rut is the best times to bag a whitetail buck.
As the deer hunting season begins drawing to an end and food becomes scarce, deer movement patterns become very predictable. This is because food sources become limited and deer must go to where the food is available. Set up on these places. Deer will be moving very early, very late and during the middle of the day. Food plots and harvested crop fields are great areas to hunt during this time of year.
In closing, understanding whitetail movement patterns on a property will help any hunter bag a buck year-in and year-out. Every buck is different, buck every buck is the same. Once you learn when and where to be, you will see and harvest more deer year after year. But remember, weather and habitat conditions can drastically impact deer movement and behavior. Good habitat and food availability means less deer movement, whereas poor habitat conditions and hungry deer means more deer movement, more deer sightings. Good luck!
If you love Texas, you will LOVE this video!