Hunters look forward to dove hunting season each fall because it signifies that it's finally time to head back into the field. In Texas, almost every hunter kicks off September with a truck full of fellow dove hunting buddies looking for some fast-paced wing shooting. Since many hunters neglect their shotguns over the summer, it's almost unfair that dove season is the first hunting season. But then again, there is no better wake up call than having the opportunity to air out a few shotgun shells to get "back on."
Dove hunters provide economic boosts to small, rural hunting towns annually. Wildlife officials are also hoping that hunters can boost their knowledge about dove hunting. An upcoming survey will ask dove hunters from across the U.S. to share their experiences and opinions about dove hunting. Topics will include time spent dove hunting, demographics, constraints to hunting, and thoughts about potential effects of spent lead from hunting ammunition on mourning doves and other wildlife.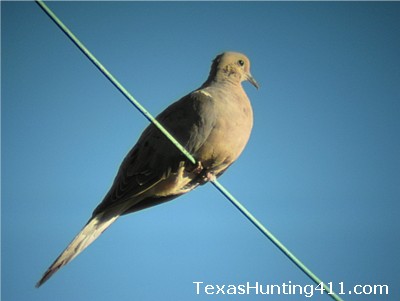 The dove hunting survey is a cooperative effort by the state fish and wildlife agencies, all four flyway councils, and the U.S. Fish and Wildlife Service (USFWS) and includes Texas Parks and Wildlife Department. "We are conducting this survey because hunter opinions and preferences are important and should be taken into account whenever possible," says Dr. Ken Richkus of the USFWS' Population and Habitat Assessment Branch. "The USFWS and the states want to make sure we use the best science-based information for wildlife management and conservation of our migratory bird resources."
There are more than 1 million dove hunters nationally, with seasons in 40 states. "We're surveying dove hunters in every state that has a dove season so they can give us their opinions on a variety of topics," Richkus says. "This approach will give us an excellent picture of mourning dove hunter thoughts and needs by state, region, and nationwide." The National Dove Hunter Survey is scheduled to begin in late June 2012, and will be completed by the end of the year.
"We really hope each dove hunter who receives a survey takes the time to complete and return it in the postage-paid envelope provided," Richkus added. "Their answers are very important, and we appreciate their efforts to tell us what they think." Without sound wildlife management practices in place there will be no dove hunting or any other kind of hunting in the future. If you are selected for the dove survey make sure to send in your response – hunters just like you are counting on it.
If you love Texas, you will LOVE this video!