Stephen F. Austin State Park is located in Austin County and offers public deer hunting opportunities through Texas Parks and Wildlife Department's special permit draw system. The park is 473 acres in size. It is approximately 5 miles east of Sealy, Texas, in the town of San Felipe. To access the park, take FM 1458 north of IH-10, then Park Road 38. Stephen F. Austin State Park is primarily Brazos River bottomland with mature pecan, elm, and cottonwood trees throughout, with relatilvey open understory.
The objectives of the public hunts at the park are to manage the whitetail deer herd, decreasing numbers to to approach the carrying capacity of the habitat while providing public hunting opportunity. Access to the park will be limited to participants of the public hunt. Hunters will be allowed to camp and normal fees will apply. The hunter check station is located at the park headquartes accessed off FM 1458 and Park Road 38., For more information on deer hunting at Stephen F. Austin State Park or other Texas public hunting lands, call the Park headquarters at 979-885-3613.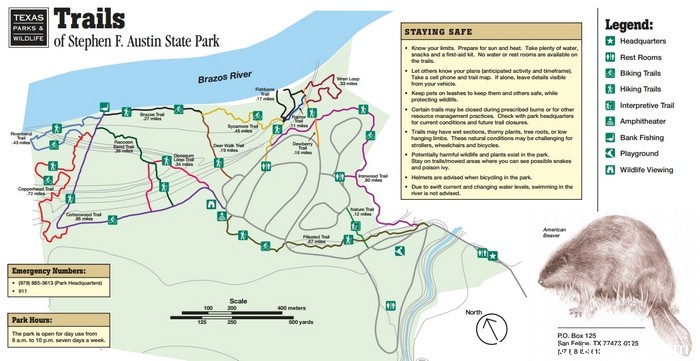 More on Stephen F. Austin State Park:
Nestled on the banks of the Brazos River, Stephen F. Austin State Park provides the opportunity to get up close to nature. Located just 30 minutes from the outskirts of Houston, this quiet and peaceful park is a nice escape from the busy city life. Come out for just a day and enjoy the many hiking and biking trails, the picnic area, or spend the night, with a choice of four types of campsites. The park also offers group facilities, for day or overnight use. Activities include picnicking, camping, fishing, hiking, biking, birdwatching, geocaching and special permit hunting during the fall for whitetail deer.
If you love Texas, you will LOVE this video!