Texas hunting is dependent upon the recruitment of new animals into the game populations each year. Recruitment of animals such as white-tailed deer and bobwhite quail are closely correlated with habitat conditions. The dry weather that has plagued Texas so far this spring has put the hurt on native habitat and recruitment by wildlife species does not look good. And conditions are so bad right now that wildfires pose a serious threat of burning off the vegetation that is left.
The Texas Forest Service is reporting that extremely dry vegetation and widespread drought are combining across the state to create dangerous fire conditions. This is the first time this year that critical fire danger has been forecast for such a lengthy period of time. Officials reported that conditions are especially ripe for wildfire west of Interstate 35, including the Western and Southern Plains, Trans Pecos and Texas Hill Country.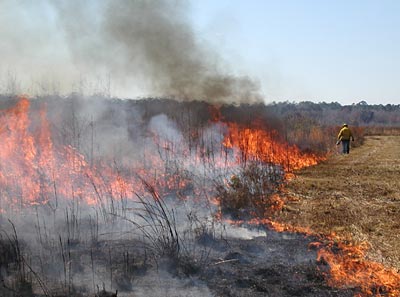 Texas has not experienced similar drought conditions since 2006. That means the "fuels," or grass, trees and brush, are dried out and easily ignited. The high winds Texas has seen this month can carry wildfire rapidly through a community. Many counties currently have burn bans in effect, but landowners with prescribed burning plans can still burn if an exception is received.
"Consecutive days of accelerated drying have pushed fuels to the critically dry and extremely dry level for a large portion of the state," said Brad Smith, a fire behavior analyst with Texas Forest Service. "When fuels reach these levels, it takes less weather to produce significant fires in high-risk fuels."
So far this year, Texas Forest Service has suppressed 605 wildfires that have burned over 70,000 acres. That's compared to 149 fires burning 5,221 acres at this time last year. In fact, in the past seven days alone, the agency has responded to 67 fires burning 23,439 acres. And since the elevated fire risk was identified on April 3, Texas Forest Service has responded to 28 fires burning almost 14,000 acres. In that short time frame, 160 homes were saved and seven were lost.
Current wildlife habitat conditions are poor and the lack of rain will further hurt the situation. Deer antler growth is highly dependent upon adequate rainfall, so as of right now do not expect a banner year of deer hunting regardless of which part of the state you hunt. Persons can monitor the current wildfire situation through the Texas Forest Service website.
If you love Texas, you will LOVE this video!