It's been dry this year and it's probably not going to get any better any time soon. But bring on the rain dances if you'd like. With the Texas duck hunting season just around the corner, any rainfall prior to the November 5 waterfowl season opener would be a welcome sight for both the hunters and the birds. After all, wildlife officials are anticipating a banner migration of ducks even though at this point they feel it's too late to repair the damage this year from the drought.
Texas goose and duck hunters will have better luck bringing in birds with just water. Put the duck call away for this hunting season, unless your hunting tidal waters such as those found at the J.D. Murphee Wildlife Management Area (WMA). Wetland habitat conditions throughout waterfowl wintering grounds in Texas have suffered greatly under the drought, and what precious little groceries that remain aren't expected to hold birds for long.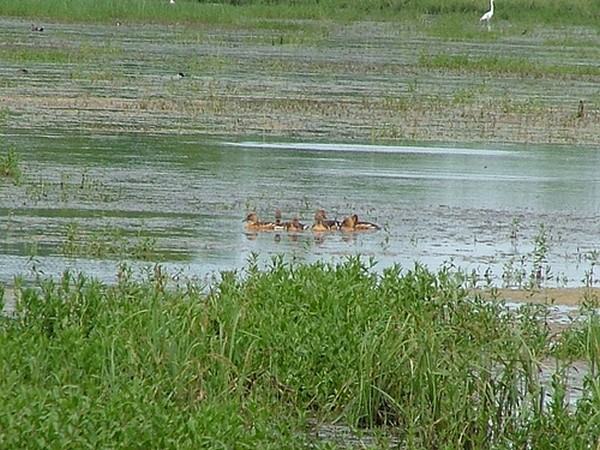 "It will be a very interesting year to say the least as we have a large number of waterfowl headed our way but very little habitat on the landscape to support them," said Matt Nelson, Central Coast Wetlands Ecosystem Project Leader with the Texas Parks and Wildlife Department. "Guadalupe Delta WMA looks the best habitat-wise, especially the tidal marsh. I suspect the bays will see more activity this season than in years past but with little food production I don't think we will hold many birds for any length of time. We simply don't have the habitat or food on the Justin Hurst WMA. "
Duck hunting in areas fortunate enough to have retained water and preserved habitat should be excellent during the early part of the season, but may not be sustainable through the winter. The upper coast is fairing a little better, but not much, said Jim Sutherlin, TPWD Upper Coast Wetlands Ecosystem Project Leader.
"We are 23 inches behind our annual rainfall after ending last year around 13 inches behind," said Sutherlin. "Our soil moisture levels are very low, but we are growing green grass this fall instead of watching grass turn brown as we did in the hot summer. Coastal marsh habitat conditions are dismal for duck hunting. Either we have dry marshes, or marshes with very high salinity waters which produce little wildlife benefit, kill plants and deteriorate organic wetland soils."
The brightest spot on the J.D. Murphree WMA is likely Wetland Compartment 5 where Ducks Unlimited installed a new pump this past summer using a North American Wetlands Conservation Act Grant, which gives the WMA the ability to pump water from Big Hill Bayou into this management compartment. Water levels and habitat should be good in this compartment throughout the season.
"We have very few submerged aquatic plants, but we do have some impressive stands of millet in a few sites," Sutherlin added. "The rice agriculture and coastal prairie range around us is very dry. We likely will have an abundance of ducks for short periods of time during the hunting season due to the overall duck numbers in this fall migration. I do not expect the birds to stay on the J.D. Murphree WMA for very long due to low waterfowl food availability and marginal seasonal habitat conditions along the Western Gulf Coast, but the duck hunting will be great while it last."
If you love Texas, you will LOVE this video!