Hemorrhagic disease and the hot, dry weather from late summer to early fall go hand-in-hand. Hemorrhagic disease includes both bluetongue (BT) and epizootic hemorrhagic disease (EHD). Both BT and EHD are very similar and clinically indistinguishable except by virus isolation and the testing of blood samples. Most biologists classify them together as hemorrhagic disease (HD). Hemorrhagic disease is a highly fatal viral disease that is likely one of the most important diseases that occurs in white-tailed deer.
How do Deer Get EHD?
BT and EHD in deer is caused by a biting fly and occurs seasonally in late summer and fall. This disease occurs throughout the United States. These flies may also be commonly known as biting midges, sand gnats, or sand flies. Normally after a hard freeze, the flies will die off and disease transmission will cease.
In milder climates, the flies may persist and cause year-round infection. With this years' milder than normal winter, this could occur in our part of Texas. EHD and BT are not spread by contact between deer. Occurrence of the disease may involve a few scattered cases or highly visible outbreaks with numerous animals over larger areas.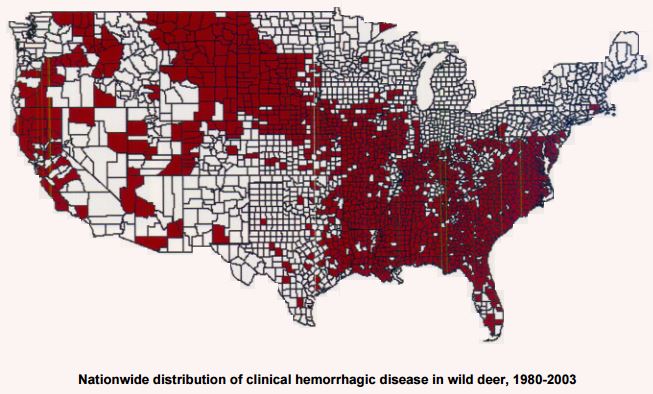 EHD in Whitetail
Hemorrhagic disease can have three forms: peracute, acute, and chronic. The peracute form can kill a white-tailed very quickly, sometimes in a few as 8 hours. Because of this, body conditions do not have time to deteriorate and carcasses often appear relatively healthy when found. The acute form is considered the "classic hemorrhagic" form with various symptoms which will be discussed later. The chronic form is slower acting and is not always fatal to deer. This form can lead to poor body condition, hoof sloughing, and emaciation during the winter and leave the animal with permanent ailments. These ailments makes them more susceptible to predation or secondary infections even though HD itself does not cause the deer to die.
Deer can overcome the disease and it is not 100% fatal. Similar to the virus people are exposed to, deer that have been exposed will develop an immunity or resistance to EHD. Each time a deer is exposed to the virus its resistance increases. The large disease events occur when the virus hasn't been present for several years and the young haven't built up resistance, or a new serotype (strain of the virus) that the deer are naive to shows up.
How does EHD Kill Deer?
Common symptoms of classic EHD in deer include ulcers or lesions on the tongue, fluid in the lungs, hemorrhaging in the heart muscle and rumen, erosion of the dental pad, and interrupted hoof growth. Bluetongue appropriately gets its name from the hemorrhaging of the blood vessels of the tongue causing it to turn blue. While deer have the disease, high fever sets in and sick or dying deer are often found near water. Some deer may exhibit no signs or mild while others are more severe, depending on their resistance to the disease and their level of exposure. Neither EHD nor BT is infectious to humans, but as always any deer that shows signs of sickness should not be consumed.
Symptoms of EHD in White-tailed Deer
So you see a deer that does not seem right, HD or something else? While it is likely that sickness observed in late summer or early fall can be caused by EHD or BT, other diseases as well as parasites cannot be ruled out and a final determination cannot be made without a necropsy and proper testing. Hot and dry weather is hard on deer and can lead already stressed deer to decline even faster. Often times, the end stage of a disease or parasite overload in deer looks somewhat similar, regardless of the type of ailment.
Some characteristics of BT and EHD in deer would be poor body condition, panting, confused appearance, and unaware of surroundings. White-tailed deer, of course, are susceptible to a host of diseases and parasites. Wildlife do not have the opportunity to 'go get checked', so the sickness simply has to run its course, which ends in death or the survival of the individual, with enhanced immunity to that specific illness.
Management for HD, Other Deer Diseases
Additionally, much like the humans, there are years when sickness may be more prevalent in the wildlife populations. With a white-tailed deer population, as in any population, as the density increases the odds of disease transmission and outbreak significantly increase. Maintaining a deer herd within the carrying capacity of the habitat should be the goal of most every deer manager. An abundance of food helps maintain health for individual animals, which equates to better bucks and more productive does, but also a decrease in the rate of spread of any diseases within the deer herd.
If you love Texas, you will LOVE this video!