The Granger Wildlife Management Area (WMA), located near Taylor in Williamson County, Texas, offers public hunting for mourning and white-winged doves, ducks, squirrels, rabbits, feral hogs and white-tailed deer. Though most deer hunts on Granger WMA have been administered through the Texas Parks and Wildlife Department's draw hunt system in the past, the management area also started offering deer hunting opportunities through postcard hunt drawings in 2010. For archery hunters interested in harvesting antlerless deer, the postcard drawings will continue for the 2011 whitetail deer hunting season.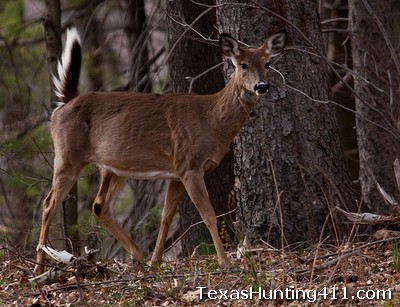 From the Web:
"The Annual Public Hunting (APH) Permit Postcard Hunts will be changing radically from what we attempted last year. Some of the major changes you can expect: The postcard hunt will be for the duration of the general deer season, from Oct.1, 2011 through Jan 1, 2012. There will be NO hunting compartment assignments – hunters can hunt the whole WMA. The hunts will be spike (at least 1 un-branched antler) and antlerless deer only. There will be one mandatory orientation and one stand-by drawing. If you miss the orientation the first day of the season, hunters are welcome to come to the stand-by drawing on Monday, October 3. Up to 4 deer hunters per card. Hunters must possess an APH Permit and hold a valid Texas hunting license prior to postcard hunt orientation."



Granger WMA Hunting – APH Postcard Deer Hunts for Antlerless Deer:
Oct. 1-Jan. 1. Up to 80 hunters will be allowed. Bag limit is three white-tailed deer (either sex). Bucks must have at least one unbranched antler. All waterfowl species having an open season, snipe, gallinules, woodcock, squirrel, rabbits, hares, and feral hogs may also be taken. Fishing is allowed. Hunts will begin at 11:00 am of the first day and end at 11:00 am of the last day of a hunt period. Submitted postcards must contain the group leader's daytime phone, e-mail address, and the names and ages of each hunter. Postcards must be mailed to: Texas Parks and Wildlife Dept., c/o Granger WMA Hunts, 915 Hedgewood Drive, Georgetown, TX 78628. For more information, contact the Wildlife field office at 512/868-6687. The deadline for application is Sept. 21, 2011. Selected group leaders will be notified by phone/e-mail.
If you love Texas, you will LOVE this video!