The Daughtrey Wildlife Management Area (WMA) is located between Three Rivers and Tilden and is 4,400 acres in size. The management area basically surrounds Choke Canyon Reservoir, and provides great public hunting because it holds some really good whitetail deer. The topography is generally flat with an abundance of browse species and mesquite, blackbrush, and prickly pear.
A limited number of permanent hunting blinds are provided on the Daughtrey WMA for hunting, but hunters may also bring portable stands. There are no cold storage facilities available on the WMA, so plan on bringing or going for ice if you plan on tagging a deer. The roads on the Daughtrey WMA are primitive and trucks will provide the best access for hunters into most areas. Four wheel drive is recommended during times of wet weather. The WMA is very primitive and makes for good hunting.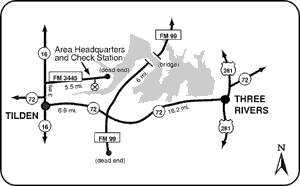 Deer hunting on the WMA is through Texas Parks and Wildlife Department's public hunting draw system. However, standby hunting positions may be available of hunt days if computer-drawn hunters did not pay for their hunt in advance. Potential standby hunters must be at the check station no later than 11:00 am on the first day of each hunt to have an opportunity at any open hunt positions. Hunters interested in rabbit, duck, quail or dove hunting must possess an Annual Public Hunting (APH) Permit. The WMA is closed to APH Permit holders during special drawn hunts.
A primitive campground is available for Special Permit hunters and will open the evening before the start of each hunt, but drinking water and electrical hookups are not available. A limited number of fire rings and picnic tables are provided on a first-come, first-served basis. Camping by hunters is also available at the Choke Canyon State Park – Calliham Unit by calling 361-786-3538. For more information on public hunting or standby positions at the Daughtrey WMA call their office at 361-274-3573 or 830-676-3413.
If you love Texas, you will LOVE this video!