Fall doesn't officially start for another two months but in one respect it's already upon us. Biologist in Kentucky are hard at work surveying mast crops and estimating whitetail populations. These annual statewide surveys are part of the lead-up to the fall hunting seasons.
Many wildlife species rely on hard mast for sustenance through the fall and winter months and the mast survey determines what percentage of hickory, red oak, white oak and American beech trees are bearing hard mast across the state. Conducted by Kentucky Fish and Wildlife and agency partners, survey work will begin soon.
"The few white oaks that I've looked at in the Bluegrass Region have looked good but that's a small sample size," said Ben Robinson, assistant Wildlife Division director with Kentucky Fish and Wildlife. "That's why we do the mast survey. You might go out in your yard and have a white oak that's loaded and think it's going to be a great (mast) year, but when you pool all the trees together collectively across the state or at least region by region you start to see the value of doing multiple routes."
Last year was poor for white oak acorns, which are preferred by deer, but about average for red oak and hickory and good for beechnuts. The spotty mast crop put deer on the move in search of food and aided hunters' efforts. Deer hunters in Kentucky enjoyed a banner 2015-16 season, setting records at nearly every turn, including a new overall harvest record of more than 155,000 deer.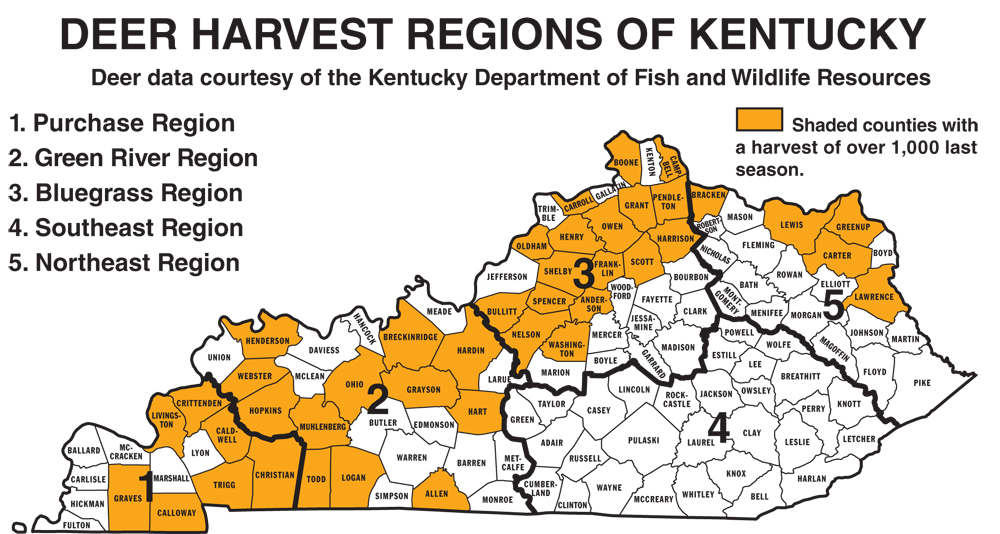 The archery deer season opens statewide on Sept. 3. Before then, biologists with Kentucky Fish and Wildlife will be conducting herd health assessments on three wildlife management areas and also Land Between The Lakes. "I would expect another fine deer season," said David Yancy, deer biologist with Kentucky Fish and Wildlife. "There's nothing that portends a letdown."
Hunters can also review the 2016-17 Kentucky Hunting and Trapping Guide has shipped to license vendors across the state and can be downloaded from the Kentucky Department of Fish and Wildlife Resources' website.
The 48-page guide lists Kentucky season dates and summarizes regulations for white-tailed deer hunting as well as for elk, bear, turkey, small game, furbearers and other species. It also provides information about licensing and permit requirements, youth hunting, quota hunts, public lands hunting and more. Changes from last season – such as the new deer zone assignments for Hardin, Webster and Marion counties – also are highlighted in the free guide.
If you love Texas, you will LOVE this video!