It's almost over, but late season deer hunting is a great time to hunt in Texas for a number of reasons. The weather is typically colder and deer have depleted many of the natural foods that were available during fall. This means deer are hitting stable energy sources, such as spin feeders and winter food plots, on a regular basis.
It's good timing, too. Getting outside is a great idea because kids are out of school and both parents and youth are looking for a reason to break the cabin fever funk. Fortunately, these late season hunting shots exists in Texas, allowing quality time with family and friends, the chance to complete harvest quotas, and put up some protein for the remainder of the year.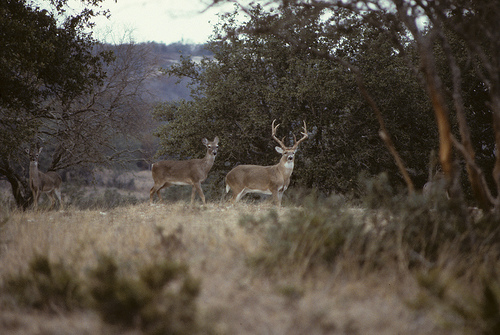 Late Season Hunting Opportunities
The general white-tailed deer and Rio Grande turkey season closed in most parts of the state on New Year's Day, but that doesn't mean hunters with unused tags are out of luck. Special youth-only and late season opportunities start Jan. 2 and run through Jan. 15.
The two-week youth-only late season is open in all counties where there is a general open season for white-tailed deer or a fall hunting season for Rio Grande turkey. All legal hunting means and methods are allowed, except in Collin, Dallas, Grayson, and Rockwall counties, where hunting is only allowed with archery equipment and crossbows. Only licensed hunters 16 years of age or younger may hunt deer during a youth-only season and hunter education requirements still apply. Be sure to check the county-specific harvest restrictions in the Outdoor Annual.
Youth-only open season provides young hunters with opportunities to learn about wildlife conservation through an enjoyable and memorable outdoor experience allowing parents and mentors to introduce them to safe and responsible hunting.
During the special late white-tailed deer season in 106 counties in the North Zone and 30 in the South Zone, harvest is restricted to antlerless and unbranched antlered deer only. The late season provides additional opportunity for landowners and managers to attain deer harvest goals on their property.
Late Season Muzzleloader
The special muzzleloader-only season provides an opportunity for hunters, adults and youth alike, in 90 Texas counties to pursue white-tailed deer with primitive firearms. A muzzleloader is any firearm that is loaded only through the muzzle. A cap and ball firearm in which the powder and ball are loaded into a cylinder is not a muzzleloader. Muzzleloader deer seasons are restricted to muzzleloading firearms only.
Late season deer hunting can be quite productive for the reasons noted earlier, but it's also a good opportunity to pull out the muzzleloader and knock blow out the dust. And bring the kids, too!
If you love Texas, you will LOVE this video!