Powderhorn Ranch is a soon-to-be wildlife management area (WMA) and state park administered by Texas Parks and Wildlife Department (TPWD), but the hunting has already begun. A group of 14 lucky youth hunters had the opportunity to take part in the first-ever public hunting opportunity at Powderhorn Ranch, which is located just north of the Port O'Connor City Limits.
The youth group got to experience remote deer hunting and the ups and downs that go with it, as well as learn more about the wildlife that call the Texas coast home.
Hunting Powderhorn Ranch
The hunt was a result of a partnership with the Texas Youth Hunting Program (TYHP) and Texas Parks and Wildlife Foundation. The TYHP strives to get kids outdoors so that they can experience what hunting is all about, such as being safe, ethical and making sound use of our natural resources. Many parents and their kids are interested in hunting, but having a place to go ends up being the limiting factor.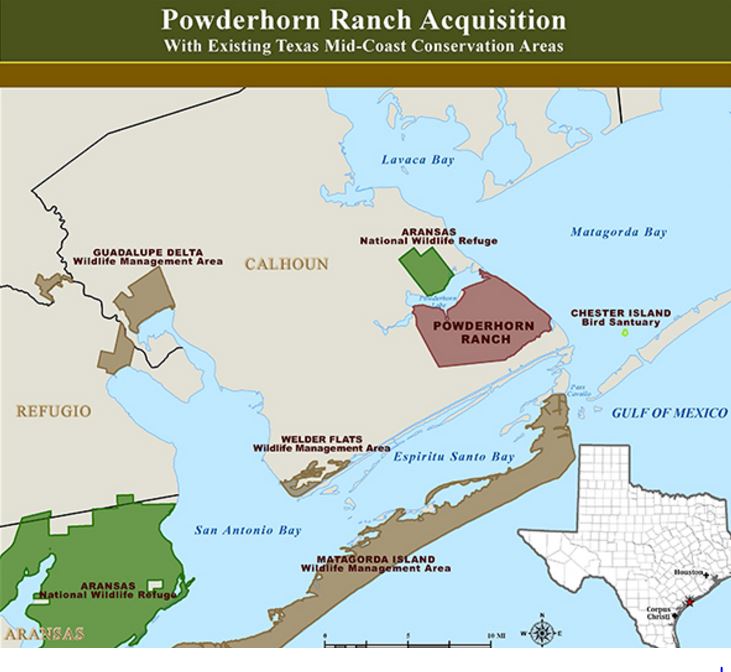 The TYHP tries to fill the gap by combining outdoor teaching and experience with interested youth hunters and their mentors on properties where hunting is beneficial to the resource. The newly-acquired property fit the bill, since not completely staffed and ready for TPWD's drawn hunt system.
The opportunity not only presented a learning experience for young hunters also was the public's first introduction to Powderhorn Ranch.
Powderhorn WMA
The Powderhorn is as cool as its name, sprawling an incredible 17,351 acres. The Powderhorn is located along the coastal prairies of Texas, comprised of woodlands, grasslands and, of course, wetlands. A variety of native wildlife species call this property home.
The Powderhorn Ranch is to serve both as a state-managed WMA and Texas state park. This means the Powderhorn Ranch WMA should offer hunting opportunities for deer, doves, ducks, geese and non-native feral hogs, too. The park will provide day-use and overnight facilities for families interesting in exploring Texas' coastal plains.
Powderhorn Patchwork
Source: "Everything has purpose and value, but it also has timing and balance," said Gene McCarty, the property's caretaker and retired deputy executive director of Texas Parks and Wildlife Department. "I like to call it a mosaic. It's a patchwork of habitats that all work together."

Powderhorn Ranch was acquired in 2014 and with the infrastructure and environmental renovation, the property is being opened to the public in a limited fashion. The plan is to open as a state park sometime after it changes into the care of Texas Parks and Wildlife Department in 2018.

McCarty scanned the golden grasslands boarded by the Powderhorn lake and live oak mots.

"If they only know this world from looking at their iPhones, all this is in jeopardy," McCarty said as he shook his head side to side. "These places are so beautiful, so unique, so important to the bigger picture. It's important we do what we can to protect the pieces that are left and to be able to use those pieces for the education and enjoyment of its citizens."
If you love Texas, you will LOVE this video!