It's mid-July and time to focus on Texas draw hunts for the fall. The 2015-16 hunting season is shaping up to be a good one, with favorable habitat conditions pointing towards bumper crops in every critter with fur or feathers. The better than average habitat conditions already have many hunters excited about the possibility of "what could be" this fall, including myself. The draw hunts offered by Texas Parks and Wildlife Department (TPWD) is just another thing getting me stoked for the fall.
Last year, TPWD rolled out online-entry for the state draw hunts. My opinion: This was much, much easier to enter than in the past. Thank you. The format is the same as last year but it seems the application period has started even earlier this year, meaning more time to apply. This also means potentially more competition for hunters entering these draws, especially TPWD did away with the one-application per hunt category last year; starting last year hunters can enter for every area that offers a public hunt.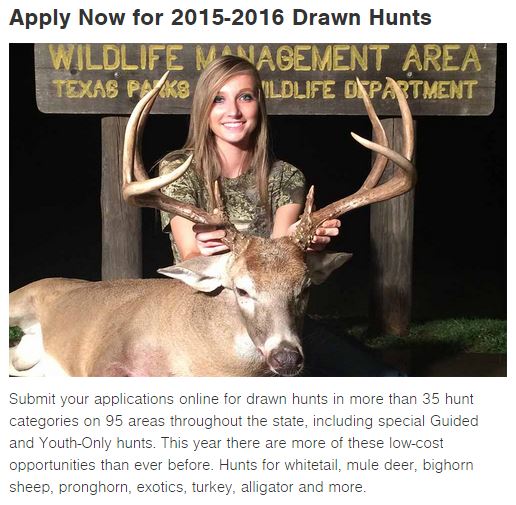 To apply you first need to navigate over to the Draw Hunt web site. From their you can choose to browse from the available draw hunts or download the hunts in the old printed book format, which is what I prefer since it's much easier to look at all of the various categories. Hunters can then apply online and even check their status throughout the fall.
Things to Know about TPWD Draw Hunts
You can view your Permit Status online. If you won a hunt it will read "Permit Available."
Winners will be notified by email which will include details about the hunt you won including hunt dates and the permit fee/*acceptance due date. Failure to pay for/accept your permit by the due date will result in your permit being reassigned to another hunter and your permit status will change to "Missed Deadline".
Once paid for/accepted, your permit status will change to "Permit Paid" or "Permit Accepted". Your permit and Hunt Brochure will be emailed to the address entered on the billing screen and it is that person's responsibility to forward permits and information to the appropriate person(s).
You can call or email the Public Hunting Program (512-389-4505, or hunt@tpwd.texas.gov) to request an email message be re-sent.
Your permit must be in your possession while participating in the hunt. It can be stored on a mobile device or printed.
No substitutions will be allowed except for a non-hunting supervising adult on a Youth Only hunt.
If a co-applicant cannot attend the hunt the other group members can still participate.
There is no secret to entering these draw hunts. It's $3 per hunter to enter and most areas accept entries with groups of up to 4, so you can apply with you buddies. The great thing about the online draw system is that hunters can no longer be disqualified for multiple entries. In old mail-in system, if you entered and then your buddy, relative, or girlfriend also entered you then all of the applications would be void. With the new system, the computer already knows that you've been entered and will not allow you to re-apply, which means you will not be disqualified.
Again, the cost is $3 per hunter and although the odds of getting drawn are not great for every hunt, if you or your group does get drawn then you will get in on a really cheap hunt with a good opportunity to harvest an animal. Some of these public hunting lands are highly managed, such as the wildlife management areas. The parks, not so much, but they typically offer good numbers of animals. The TPWD draw hunts are a good place to look for hunters with no to few places to hunt. From experience, I'd recommend entering as many as possible and then you've got a chance at getting drawn for one or two.
If you love Texas, you will LOVE this video!