Many Texas landowners and hunters are familiar with the Managed Lands Deer Permit (MLDP) program, but many more are not. Many have misconceptions or are simply misinformed. So what is it? The MLDP program is a habitat-based program designed for landowners interested in white-tailed deer management and it is one of the many voluntary programs offered by Texas Parks & Wildlife Department (TPWD). The program can also help landowners with mule deer management, but it's typically associated with whitetail deer, mostly because of their greater distribution across the state.
The MLDP program allows landowners involved in a formal management program to have the state's most flexible seasons and increased harvest opportunities. The program is incentive based and habitat focused. In other words, the program's enhanced deer bag limits and extended seasons are made available to landowners as incentives for maintaining their ranches' wildlife habitats in good and improving condition. The Managed Lands Deer Permit program has three levels (Levels 1, 2 and 3), with more deer harvest and season flexibility offered to landowners as the progress through the program.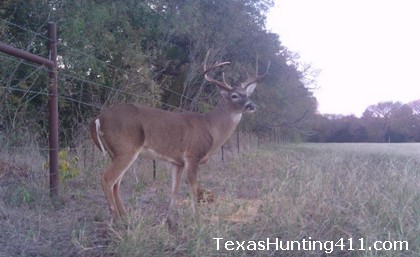 Participation in Levels 2 and 3 of MLDP requires the implementation of a minimum of 2 and 4 recommended habitat management practices, respectively. Maintaining a ranch's population density of native and exotic deer at a level no higher than the capacity of the native habitat is high on the list of recommended management practices. MLDP's longer seasons and enhanced bag limits provide landowners with much more flexibility in achieving the recommended harvest rates to maintain the proper density of white-tailed deer.
TPWD typically recommend that hunters use the early portion of the season to remove excess deer, especially does. It is much better to remove them early in the season, rather than waiting until the latter stages of the season in January and February, to reduce pressure on the winter habitat as early as possible and making those food resources available to the deer that will be retained in the population.
The early season is also a good time to remove management and cull bucks (bucks with undesirable antler characteristics) from a deer herd. That's good not only from a habitat perspective, but also from a genetic perspective since they are removed from the population before the rut begins. This leaves bucks with the more desirable antler characteristics to do the breeding.
The long MLDP seasons and enhanced bag limits allow landowners interested in deer management to meet their harvest goals on an annual basis and improve their deer herd. That's because the deer hunting seasons under Level 2 and 3 start during the first weekend of archery season and run through the end of February of the following year. This offers participating landowners about 5 months of deer hunting, although the idea is to get most of the harvest done as soon as possible for a deer food standpoint.
Ranches that choose to participate in the MLDP program must commit to deer habitat management and other deer management practices. These practices may include brush management, grazing management, prescribed burning, supplemental feeding, supplemental water, range reseeding, food plots and deer surveys. If improving the habitat on your ranch for deer is not one of your goals, then this program will not work for you. The MLDP program is more than just a deer hunting program, although participating landowners at Level 2 and 3 do not have to follow the county hunting regulations, such as bag limit and antler restrictions.
Over the years, I've been around several ranches that have participated in the program. One of the big benefits is not only the long hunting seasons, but the fact that each ranch receives Managed Lands Deer (MLD) Permits. These deer permits are issued for both bucks and does the number issued is based on the estimated deer population using the deer survey data collected by the landowner. The number of permits a ranch gets is the exact number of deer that they can shoot. From what I have seen, most ranches get more than enough permits to achieve their management goals. I've been invited on several late season hunts to use "extra" MLD permits, meaning hunters have already taken as many as they could use.
The MLDP program is great for any landowner interested in improving both the habitat and deer found on their property. MLD permits allow for deer harvest flexibility and provide for active management on a ranch. If I owned a ranch there is no doubt that I would participate. Maybe one day. The landowners I have talked with all have said the TPWD biologist are great to work with and that they work to help them achieve their deer management goals. If you have a ranch in Texas and are interested in improving your land and helping the deer and other animals that live there, you can find your local biologist right here.
If you love Texas, you will LOVE this video!