Public hunting lands are an excellent way to find a place to hunt in Texas; or if you already have a place, they can provide a new and unique hunting opportunity. In the Lone Star State, Texas Parks and Wildlife Department (TPWD) offers two separate types of hunts: Annual Public Hunting Permit hunts (APH hunts) and special permit hunts. Both are very different as far as access and what you are allowed to harvest.
APH permits allow you to access public land when APH hunts occur. APH permits are available anywhere licenses are sold and cost $48. When you purchase an APH, a booklet is mailed to you with maps of all the current public lands, what species you are allowed to hunt on each property, and when you can access those lands. This information is also available on the TPWD website. Public lands in this system offer a wide variety of game to pursue including: waterfowl, dove, quail, pheasants, rabbits, and hogs.
Most of the public lands in Texas that you can access utilizing an APH have unmanned check stations. You are required to fill out general information at onsite registration (OSR) booths set up at the entrances of the hunting area. APH permits are good for the license year (September 1 through August 31).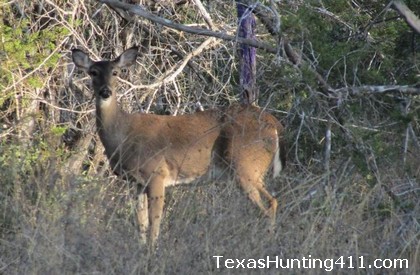 Many Texas residents who hunt are probably looking for new places to hunt deer and other big game. These are typically not allowed on APH hunts, but instead through special permits. Special permit hunts are made available through a lottery system. Usually around mid to late July, a booklet (Applications for Drawings on Public Hunting Lands) comes out that has all of the special permit hunts that will be available for the upcoming hunting season. There are 24 different categories (such as Archery Deer, Gun Deer, Youth Deer, Alligator etc.), for which you can apply.
All of the information you need is in the book, such as hunt dates, what you can harvest on that hunt, how many permits will be issued, number of applicants the previous year and the success rate. There are application forms in the back of the book that need to be filled out. There is one form for each category, so you must apply for each one separately, and you may only apply for each category once. You can have up to 4 people total on a card depending on the hunt. Incomplete applications will not be accepted, so pay close attention when completing these forms. Also, do not try to enter yourself and your hunting buddies on one card, and then have them enter for the same category on their card. The computer will catch the duplication and throw both application cards out.
The cost is just $3.00 per adult applicant per category to enter the drawing. Big Time Texas Hunts entries are $10 per applicant. If you are lucky enough to be drawn, you will need to pay $80 – $130 per adult, depending on the length of the hunt. Youth hunters (under 17) are exempt from any fees. Applications and fees must be received at TPWD Headquarters by the posted deadline which will vary by hunt category.
This article on public hunting in Texas was written by Daniel Walker,Texas Parks & Wildlife Department biologist, Chaparral Wildlife Management Area. Article originally appeared in TPWD publication "The Cedar Post", Volume 2, Issue 2, 2012.
Every year that you put in for the drawing and are not selected, you start to accumulate preference points for each category. So let's say that you applied for the Gun Deer Either Sex (GDE) hunt for the first time last year and were not drawn, and then applied for the GDE this year. You now have one preference point which means your name is put into the drawing 1 extra time. If you are not selected for the next 5 years, you will have your name put in 5 extra times for that category and so on.
Some public hunt categories at certain locations are very popular and are difficult to get drawn for. For instance, at the Chaparral Wildlife Management Area we regularly have 3,000+ applicants competing for about 40 of our deer hunting permits. Most of the selected hunters end up with 15, 20, or even 25+ preference points before they are drawn on a whitetail deer hunt.
Once you are selected for that category, your preference points are reset and you have to start over accumulating them. Some categories and hunting areas are more popular than others, so if you are looking for the best chance of getting drawn then look at the previous year's number of applicants and the number of permits offered so that you can gauge your chances.
If you love Texas, you will LOVE this video!