There is a lot of talk of mountain lions in Texas. Ask any hunter and they will tell you a story about the one their uncle saw crossing the road, the track they found or the one they saw that got away. The fact is there are more mountain lion stories than there are mountain lions in Texas. And there is one less today because a mountain lion was found road-killed near the town of Bandera. Apparently this rough country still holds a few cats.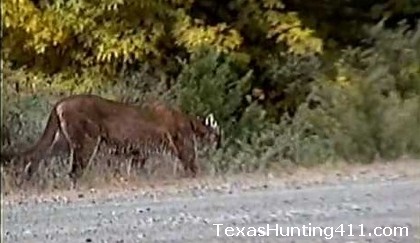 Lone Star Outdoor News: "'It was a 121-pound tom found by a road crew in Bandera County,' said Broach, owner of Rhodes Brothers Taxidermy in Kerrville. 'The road crew called the game wardens, and the wardens and biologists brought it here for the time being.'

Broach said he isn't sure what the officials are going to have him do with the lion.




'I'm hoping I'll be mounting it for them, because whoever hit him, hit him just right,' he said. 'He's in great shape with no physical damage. That was a very big, healthy tom.'"
If you love Texas, you will LOVE this video!