The weather is cooling down so that means duck and goose hunting in Texas will be picking up shortly. The cool fronts received lately have pushed a good number of teal through and there are even some white-fronted geese hanging around some of the fields. Deer hunting gets a lot of ink in Texas, but goose and ducking hunting is big too. From the coastal plains to the high plains, hunters are looking forward to chasing ducks this fall and winter.
Good habitat conditions on most of the nesting grounds mean good numbers of birds should winter in Texas. With expectations of a cold winter, that bodes well for hunters looking to decoy birds their way. I can't wait to make my annual pilgrimage down to the coast for a little cast and blast. Here is what Kevin Kraai, Waterfowl Program Leader for Texas Parks and Wildlife Department, had to report about the upcoming waterfowl hunting season in Texas: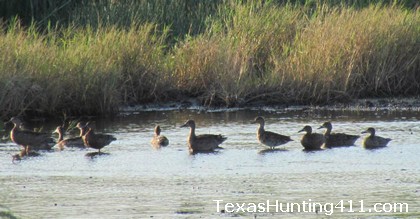 "Assuming you can follow up a drought like last year with rain, an event like that can be very beneficial for wetland conditions the following year. Wetlands need disturbance of one kind or another, and drought can act as one of the best disturbances to stimulate favorable plants for waterfowl. I don't believe we could have asked for a better scenario for breeding mottled ducks and waterfowl arriving this fall … we just need lots of rain prior to their departure from the north.
Duck hunters should brace themselves for what could be a good duck hunting season. The U.S. Fish and Wildlife Service's survey estimates 48.6 million breeding ducks, a 7 percent increase over last year and 43 percent above the 1955–2010 long-term average. This year's estimate is a record high and is only the sixth time in the survey's history that the total duck population has exceeded 40 million. As always, fall weather and habitat conditions along migration routes will have a big impact on migration chronology and local goose and duck hunting success in Texas."
If you love Texas, you will LOVE this video!