When it comes to bird hunting, September is one of the best months in Texas. Dove hunting and teal hunting seasons cranks up this time each year and things look pretty good for teal birds thus far. Coastal prairie hunters reported seeing more teal the second weekend compared to the opener. More hens and their first-of-the-year birds showed mid-week, along with a noticeable number of greenwings. Many duck hunting reports showed quick limits continued in Wharton County fields.
Some seasoned teal hunters have said can't remember seeing this many bluewings during the early teal season. Lack of water in the marsh and on the prairies has definitely contributed to larger flocks on fewer ponds. Strong teal shoots have been had near Eagle Lake, Lissie, El Campo and Port Lavaca. Marsh hunters near Collegeport and Palacios have enjoyed half-limits of teal, as well.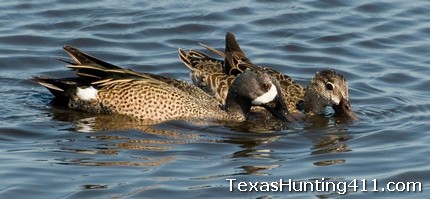 Trinity Bay hunters took half-limits of teal as well, with a few filling their straps. The Justin Hurst WMA near Freeport has averaged less than a bird per hunter due to limited hunting sites due to the drought. Mad Island WMA near Bay City has seen fair results, again due to limited ponds due to the drought along with low tides that have not allowed tidal ponds to hold water. The teal season ends at sunset September 25. Find some fresh or brackish marsh along the coast and you will find the teal. That's all for this weeks duck hunting report.
If you love Texas, you will LOVE this video!