The U.S. Fish and Wildlife Service recently approved the Texas Teal Season for 2011-12. The fall waterfowl hunting season includes a 16day early season for both teal and Canada geese. The 16 day early teal hunting season will run from September 10-25 across all waterfowl zones and includes a daily bag limit of four birds. Also, for the first time in there will also be the additional goose hunting opportunity during the early Canada goose season in Texas' eastern goose zone that will also run September 10-25.
Texas Parks and Wildlife Department (TPWD) has observed growing populations of resident Canada geese throughout northeast Texas. Wildlife biologists determined an early Canada season would be appropriate since Texas has available hunting days within the federal framework for goose season in the eastern goose hunting zone. The bag limit on Canada geese is three per day.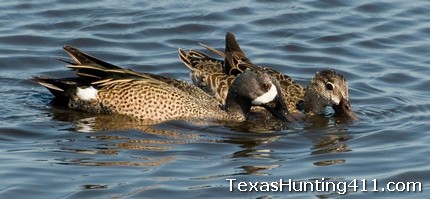 "The framework for Canada geese is 107 days and we've never taken full advantage of those days," said Dave Morrison, TPWD small game program director. "Because we have them and are allowed to take them, we will run a Canada goose season concurrent with the early duck hunting season. There are some geese in northeast Texas that could provide an additional opportunity for Texas hunters to get a big and little combo during teal season."
During the Texas teal season of 2011, possession limit is twice the daily bag for all migratory game birds, except light geese and sora and Virginia rails. Many Texas lakes, tanks and rivers are low on water, so many blue-winged teal will likely be heading straight for the coast. Hunters that have water should have birds and good duck hunting, so let's hope we get some cool fronts to keep those birds moving south. And besides, it's awful hot around here.
If you love Texas, you will LOVE this video!