When the words "hunting" and "Texas" are mentioned together most hunters will automatically think of white-tailed deer hunting, but the mule deer hunting in Texas can be  noteworthy, as well. In fact, both the Trans-Pecos and the Texas Panhandle have been producing some picture-worthy mule deer bucks in recent years. Deer management, including both habitat improvement and select harvest, have payed off big for thoughtful landowners and mule deer hunters.  The trend is likely to continue, but like many saw this season, hunting will always be hunting.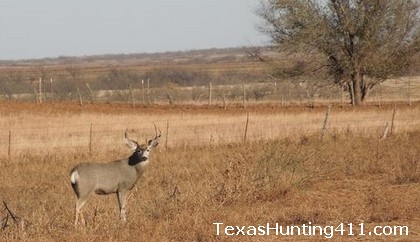 Mule Deer Hunting: Texas 2012
The mule deer hunting season out in far West Texas was a slow one in 2012. The Trans-Pecos just has just had a tough run of it lately. From what I've seen, mule deer activity, and subsequently, hunting, for mule deer in this region of Texas was the slowest in many years. Many hunters observed low buck numbers, but there were at least a couple of reasons why many mulie hunters did not see as many deer as in years past.
Habitat Great, Mule Deer Hunting… Slow!
The grass is sometimes greener on the other side. Too green, in fact, according to many West Texas guides that had a more-difficult time putting customers on deer. The mule deer hunting season for gun hunters is only two weeks long, meaning the weather must cooperate during this window to encourage mule deer movement, generally making them more vulnerable for hunters. But habitat conditions in the Trans-Pecos region of Texas were great this season. Good rainfall high quality food, and plenty of it, was available.
Mule Deer Hunting Cools Down as Temps Rise
Rainfall allowed mule deer foods to flourish, but the heat kept them growing. Mild to hot temperatures limited hunter movement in many cases and the better-than-average leaf cover kept the deer that did move plenty hidden. One hunter said, "There are just too many places for deer to hide, and too much for them to eat. Why would they move?" Mule deer hunting during the cooler mornings were more successful than evening hunts.  The deer that were spotted were in great shape, fat and happy. A wet year does that for Texas' wildlife.
Moon Phase During Mule Deer Season
Ask any deer hunter about a full moon and more often that not you'll get a sentence full of colorful language right back at you. A full moon means deer activity after dark is much higher than normal thanks to increased visibility. It just so happened that there was a big, bright, full moon during the mule deer hunting season this year. The abundance of food, the warm temperatures and the moon had put everything in favor of the mule deer. And that, my friends, is why they call it hunting. Each year of deer hunting is like a box of chocolates, you never know what you're gonna get.
If you love Texas, you will LOVE this video!