The movement of white-tailed deer and into and around the state of Texas has been on the radar of Texas Parks and Wildlife Department (TPWD) for some time. The deadly deer disease referred to as chronic wasting disease (CWD) is known to wreak havoc on deer populations where it is found. Now that CWD was recently detected in Texas' resident mule deer herd out west the next step may be to change the deer transport rules within the state. CWD poses a serious threat to deer populations and deer hunting within the state. Just ask any state that has had CWD.
TPWD: "State wildlife officials say more deliberation is needed before new rules are adopted governing Texas Parks and Wildlife Department's regulatory response to the detection of CWD in Texas. Consideration of proposed rules restricting deer movement in the CWD affected area of far West Texas will be delayed until the Texas Parks and Wildlife Commission's November meeting.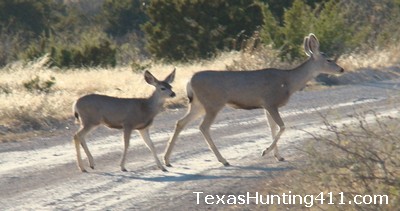 "Because this is a very dynamic process involving a complex disease, our approach to proposed rules regarding unnatural deer movement is one of caution," said Mitch Lockwood, TPWD big game program director. "The consensus among our CWD task force is that additional measures need consideration beyond what we originally proposed."
Proposed rules being considered would limit permitted deer movement into or from areas in which CWD has been discovered as well as areas for which there is a moderate to high probability that the disease exists undetected.
In addition to permitted movement restrictions, officials will be collecting samples from hunter harvested mule deer for CWD testing. All mule deer harvested in the CWD Containment Zone of El Paso, Hudspeth, and Culberson counties during the upcoming mule deer season, Nov. 23-Dec. 9 will be inspected by officials at mandatory hunter check stations and tested for CWD. Mandatory check stations will be set up at the Van Horn Convention Center and at Mae's Café in Cornudas.
Also, hunters in the surrounding High Risk Zone are encouraged to submit their harvested deer for CWD testing at voluntary mule deer check stations in Bakersfield, Midland, Alpine and Sanderson, scheduled to be open during all three weekends of the general mule deer season.
TPWD plans to post all test results on the agency's website as soon as results are received from Texas Veterinary Medical Diagnostic Laboratory. Additional information, including maps of the Containment and High Risk Zones, check station locations and other details will be made available on the TPWD website prior to the mule deer hunting season."
If you love Texas, you will LOVE this video!