With the mule deer hunting season just around the corner, biologists with Texas Parks and Wildlife Department are asking deer hunters and landowners to bring their harvested mule deer to one of the six voluntary mule deer check stations in the Trans-Pecos region on December 3-4 and December 10-11. The voluntary mule deer check stations will be set up during the two weekends in Culberson, Midland, Pecos, Terrell and Brewster counties.
Mule deer harvest data collected at these check stations is used to monitor harvest intensity, herd condition and age structure and to develop revisions in deer hunting regulations. TPWD biologists annually collect mule deer harvest data by management compartment, which include age by tooth wear and replacement, antler measurements and field-dressed body weights.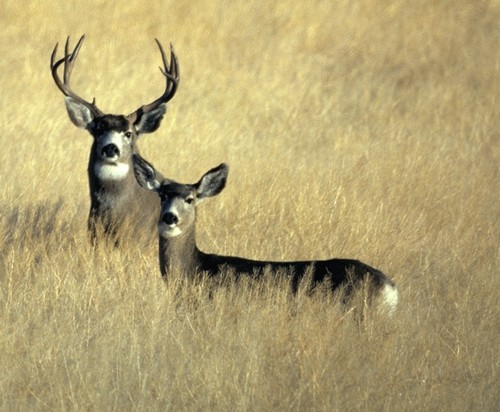 "In an effort to improve deer data, increase our knowledge of mule deer harvest intensity on a broader scale, and enhance efficiency, we will be operating voluntary mule deer check stations for the 2011 hunting season in five counties," said Shawn Gray, TPWD mule deer program coordinator. "These check stations will be located in areas where hunters can conveniently get their harvested mule deer aged, weighed, and measured [for bucks]."
In the Trans-Pecos, more than 14,000 harvested mule deer bucks have been checked since 1980, averaging more than 500 deer each season. In addition, data is also collected from a limited number of harvested does. Successful Texas mule deer hunters can do their part by participating and allowing TPWD staff to collect valuable information.
"This information is essential in monitoring mule deer populations in Texas and making future hunting regulation decisions," Gray explained. "The success of the check stations will be in large part because of the cooperation of hunters and landowners. TPWD encourages all hunters and landowners hunting these dates to bring their harvested mule deer by a check station this hunting season."
All voluntary check stations will be open from 9am – 5pm on December 3-4 and December 10-11. Voluntary mule deer check stations will be located at these locations:
Van Horn, Culberson County, Van Horn Convention Center – 1801 West Broadway
Midland, Midland County, Naturally Fresh (Deer Processor) – 1501 Elwyn, Midland, TX 79701
Bakersfield, Pecos County, Chevron Station – south of I-10 (Exit 294)
Sanderson, Terrell County, Slim's Auto Repair – intersection of HWY 90 and 285
Alpine, Brewster County, Hip-O Taxidermy – east side of town on HWY 90, across from Dairy Queen Restaurant
Mule deer numbers in Texas have been going up with increased mule deer population management. In addition, some counties have seen the addition of mule deer hunting seasons in recent years. This year has been dry, but hunters focusing on water and food sources should have good luck. Hope to see all you successful hunters bring your deer by one of the six TPWD mule deer check stations this years. It's almost here!
If you love Texas, you will LOVE this video!