Drought cab be tough on wildlife and the mule deer population at Black Gap Wildlife Management Area took it on the chin, again, during the most-recent low rainfall period. It's always dry out in West Texas, but this was a whole other level of dry. In an effort to boost a struggling mule deer population in and around the Black Gap, 40 mule deer does were relocated from Elephant Mountain Wildlife Management Area in early February. The mule deer population within Black Gap WMA and surrounding area has struggled to rebound from the drought of the late 1990's.
"This relocation is the first in a multi-year project aimed at restoring mule deer at Black Gap WMA and the El Carmen Land and Conservation Co. property," says Mitch Lockwood, director of the Texas Parks and Wildlife Department's big game program. "Despite the excellent mule deer habitat at the El Carmen Land and Conservation Co. property and Black Gap WMA, mule deer numbers have remained very low over the past 35 years. These partners aim to help boost populations while researching why the region has seen limited growth in the population."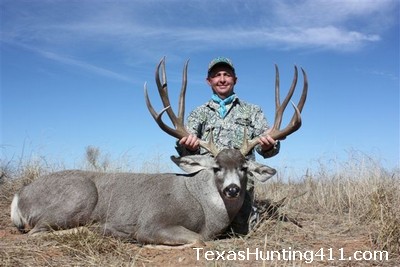 After surveying the herd numbers of locations near Black Gap WMA, Elephant Mountain WMA was chosen to be where the first deer would be captured. "The mule deer population on Elephant Mountain is doing quite well," says Mark Garrett, Trans-Pecos WMA Project Leader with TPWD. "The surplus deer that were removed will benefit habitat conditions for the vast array of other wildlife species living at this location."
TPWD, along with the ECLCC — CEMEX-USA and Cuenca Los Ojos, Borderlands Research Institute at Sul Ross State University, U.S. Department of Agriculture-Wildlife Services, Mule Deer Foundation, and Houston Safari Club have partnered together to help mule deer populations grow at Black Gap WMA/ECLCC.
"We are truly grateful for the generous contributions and tireless efforts of these dedicated partners," says Lockwood. "They are no strangers to wildlife restoration in Texas, and we appreciate their steadfast support."
The ECLCC property joins TPWD's Black Gap WMA to comprise 135,000 contiguous acres dedicated to wildlife and habitat conservation. This diverse site of Chihuahuan desert scrub and desert grasslands climbs from the Rio Grande River to the Sierra del Carmen Mountain Range.
TPWD and their partners plan to translocate an additional 100 mule deer to the Black Gap WMA/ECLCC area in 2016, and will continue to monitor the movement of deer, habitat utilization, survival, and causes of mortality through 2017. Black Gap hopes to provide additional mule deer hunting in the future. Elephant Mountain WMA will continue to offer mule deer hunts through special draw public hunts.
If you love Texas, you will LOVE this video!