Some folks over in East Texas are in the beginning stages of forming a prescribed fire cooperative. The Pineywoods Prescribed Fire Cooperative is made up of private landowners who wish to burn on their own property for habitat management. The primary goal of this cooperative is to put fire back on the ground in East Texas. The benefit will be reduced fuel loads across the Pineywoods, resulting in wildfire protection and, indirectly, wildlife habitat creation or enhancement.
The Pineywoods burning cooperative will be based on several successful models that already exist in different parts of the state and will be run by its members. Members will benefit from this cooperative by on-the-ground training and networking with other landowners with common goals, resulting in possible collaborative burns, access to prescribed burning equipment, and possible cost-share assistance for burning or creation of fire breaks.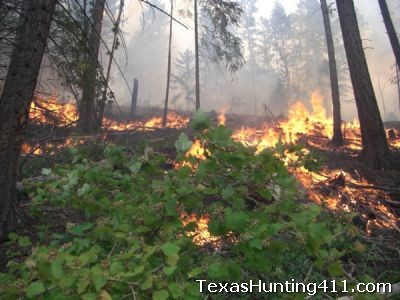 The cooperative will be supported by several partner agencies and non-governmental organizations to achieve the mutual goal of putting fire back on the Pineywoods landscape in a responsible manner. An informative meeting will be held from 1:30 to 4:00 p.m. for landowners on July 5, at the Texas Forest Service Cudlip Training Center, located at 2127 South 1st Street, in Lufkin, Texas, off of Hwy. 59 South.
Find out about the cost-shares that are available and what the Pineywoods Prescribed Fire Cooperative can do for you. Texas' burning associations allow members to get hands-on training by assisting with prescribed fires on other member's property, all the while increasing the knowledge of individuals about the use fire as a wildlife management tool and improving native habitat and hunting.
If you love Texas, you will LOVE this video!