For landowners interested in wildlife management, habitat management is the key to success. One of the best management practices out there is prescribed burning. There are Prescribed Burning Associations (PBA) located throughout the state of Texas, and landowners can obtain a lot of knowledge by joining and helping. PBAs are non-profit organizations that are owned and operated by landowners to expand the use of prescribed burning across the landscape.
Prescribed Burning Associations share resources, knowledge and expertise to increase the application of planned prescribed fires to enhance agricultural production and wildlife habitat. Burning is one of the most powerful practices for managing wildlife habitats on a property. It may seem simple to light a match and watch a place burn, but specific habitat management goals with this powerful tool takes considerable study and knowledge.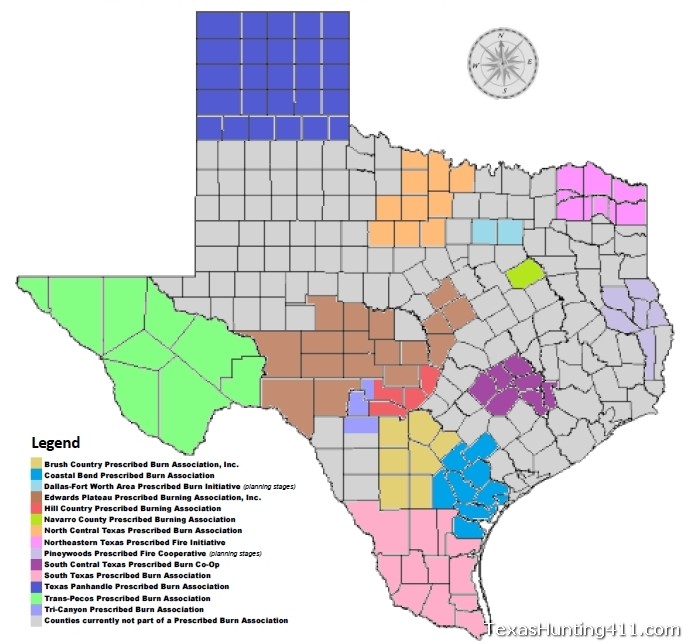 The first thing to know about prescribed burning is that safety and fire control are absolutely essential. Learning fire behavior takes time, though it may never be fully understood. Education should be the first step in using prescribed fire. A landowner considering prescribed burning for wildlife and habitat should learn about fire behavior, fire and smoke management, burning laws, plant responses, animal needs, and animal responses.
Landowners who use fire as a management tool should continually strive to increase their knowledge about fire and habitat management. There is much to learn, but it's a hot topic. No person should ever attempt to conduct a prescribed burn until he or she has intensively studied burning and gained burning experience by assisting educated and experienced burn managers. There are several classes and workshops provided annually by a number of organizations. Additionally, a prescribed burning association can educate you while acquiring skills and receiving on-the-ground experience.
If you love Texas, you will LOVE this video!