The Las Palomas Wildlife Management Area (WMA) is made up of 3,311 acres of native habitat in the Lower Rio Grande Valley. Both farm land and wetlands were purchased by Texas Parks and Wildlife Department (TPWD) to preserve nesting habitat for white-winged doves. Many of the units also provide excellent public hunting opportunities. The Las Palomas WMA is comprised of 18 different units in Cameron County, Hidalgo County and Presido County.
The units range in size from two acres up to 604 acres. They are open to public access throughout the year, except when closed for TPWD Special Permit hunts. Hunting is generally allowed for mourning and white-winged doves, quail, rabbits and hares. Dove hunting is the main use of the WMA. Public hunts are scheduled when conditions warrant. Contact the area manager for hunting and other information.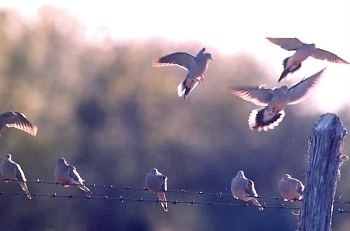 The units of the Las Palomas WMA are located in the area where the Special Season White-Winged Dove hunts are designated. Check the Outdoor Annual for the current dates and bag limits. Three units that have offer special permit public hunting opportunities in the past are the Anacua Unit, Arroyo Colorado Unit and the Longoria Unit of Las Palomas WMA.
The Las Palomas WMA Anacua Unit is 220 acres located just south of Santa Maria south off of US Hwy 281. The unit is divided into two separate sections with the hunter check station located in the north parking lot. There are designated hunting areas for doves in both the north and south sections of the unit. More information on the Anacua Unit.
The Arroyo Colorado Unit is 761 acres of native brush. The unit is located in Cameron County. Primitive camping is allowed for permitted hunters selected for the drawn youth whitetail deer hunts. However, there are no restroom facilities or potable water available. More information on public hunting at the Arroyo Colorado Unit.
The Las Palomas WMA Longoria Unit is 373 acres of mature dove habit mixed with re-growth and food plots. The unit is located approximately 4 miles west and south from Sebastian and 4 miles north of Santa Rosa. The property has excellent dove hunting. More information on public hunting at the the Longoria Unit.
If you love Texas, you will LOVE this video!