In the past, the bobwhite quail was taken for granted in Texas, distributed far and wide and good numbers. Fast forward about a quarter century and now researchers are wondering "what went wrong?" Quail populations have shown marked declines over several decades with no real cure in sight. Many not-so-old-timers will tell you that quail were bountiful around farm fields and ranches. Will quail numbers rebound? It seems difficult to say for sure, but here is a little about what we do know about quail distribution in Texas:
Source: "Northern Bobwhite (Colinus virginianus) are found throughout the Central and eastern United States from Minnesota and Massachusetts south to Florida and the Gulf Coast; and from Wyoming and southern Ontario, Mexico, parts of Central America, and Cuba. In Texas, Bobwhites have been found in every county of the Texas Panhandle and in every month of the year, although populations and habitat quality varies throughout the High Plains and Northern Rolling Plains physiographic regions. Annual populations fluctuate considerably and follow long-term cyclic rainfall patterns. Rainfall patterns throughout the year also influence vegetative growth of perennial grasses that provide nesting cover and forbs that produce seed important to bobwhites in their diet.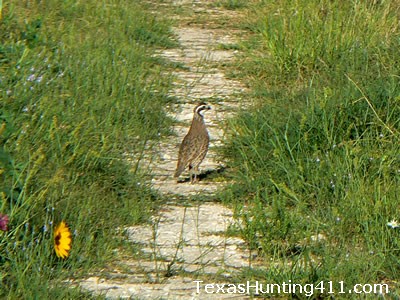 Insects are also an important food item, particularly for young quail. Woody escape cover is vital for quail to escape predators and for protection from the elements. In general, Northern Bobwhite are found in riparian and riverine bottom habitats, where tree thickets grow adjacent to pasture lands and relatively dense ground-level cover exists. In the eastern Panhandle, Northern Bobwhite typically occur in scrub oak woodland, riparian woodland, and in juniper-oak woodland. Although largely overlapping in their range, the Northern Bobwhite is replaced by the Scaled Quail in more xeric uplands, tributary canyons, and mesa slopes above river bottoms in association with mesquite or juniper savanna habitats.
Various land use practices influences the ability of habitat in the Panhandle to support populations of bobwhites (i.e., livestock grazing, farming practices, herbicide use, habitat management, predators, conversion of native rangelands to improved pastures. Higher populations of quail are traditionally found in the rangelands of the Northern Rolling Plains that in more arid rangeland characteristic of the High Plains. Large ranches with extensive contiguous acreages of varied and quality habitat offer the best opportunity to manage viable populations of this species and to sustain annual huntable populations. Standardized Roadside quail survey lines are counted each year by Wildlife Biologists in District 2 to gather information on annual and long term population trends."
If you love Texas, you will LOVE this video!