The past deer hunting season may be over, but the stories will live on! As usual, I suspect there were many big, smart bucks that got away, many that died due to fighting, and a number of bruisers that also dropped guard during the rut. That is exactly what happened while Ohio's Heather Hollar was deer hunting this past year. Heather had a big whitetail buck close the distance as the rut was in full swing.
"Hi, my name is Heather Hollar, 26 years old from Newark, Ohio. I live not far from a little town called Toboso. I killed this 14 point buck on Thanksgiving morning in 2009 with my Horton crossbow. I had seen your many deer hunting stories and thought maybe you would be interested in taking a look at mine. This giant Ohio buck followed a doe right in to my stand at about 22 yards.
I watched the whitetail buck follow her for about 15 minutes. I kept thinking to myself no way no way, is she really coming this way? And here come the monster buck not far behind her. The brute came in to about 22 yards and then turned broadside. I told myself, calm down, calm down. Slowly, I squeezed the trigger and took the shot. The buck took off immediately as the bolt pierced his lungs!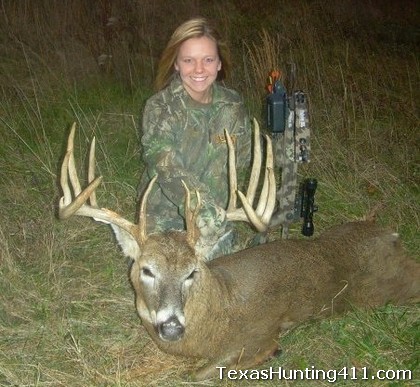 I felt really good about the shot, and then I heard him crash in some brush not too far from the stand. I remained in the deer stand for about an hour, then I got down I went to get my boyfriend to help me. We went back down into the woods and I told him about where I heard the buck crash, we locked-in on the blood trail and walked… and looked… and sure enough he says THERE HE IS!!!!!!
This buck was no joke an Absolute Giant! Did I shake the whole time in my stand, you better believe I did! I have been whitetail hunting since I have been a little girl with my father, and have never killed a whitetail buck this big. I used to go deer hunting with a gun a lot, and when I got into bow hunting, it was a whole different ball game and a lot more exciting.
What actually tops this story is this 14 point buck that I killed, a guy that we know had trail camera pictures of him from about 6 miles away 3 or 4 days before I killed him. He showed us the trail camera pictures of the buck and it was him, and we now have them in frames right beside him on the wall. One of the coolest deer hunting stories of my life!
Please let me know what you think. I wanted to give the story and submit my photo. Sincerely, Heather Hollar."
If you love Texas, you will LOVE this video!