Most of the people that did not grow up or who have not traveled through Texas think the state is made up of flat, open country. Sure, part of it is, but even the open country is not flat—it's rolling! And that open country is important pronghorn antelope habitat that offers surprisingly good pronghorn hunting on lands managed for these fast critters. Pronghorn are native to Texas, found in the Panhandle as well as the Trans-Pecos regions of the state. Pronghorn once roamed most all of the state, including the coastal plains, but never did well in East Texas due to all the timber.
Though pronghorn antelope is still found in West Texas, the number of speed goats over in the Trans-Pecos has been dwindling. Texas Parks and Wildlife Deparment (TPWD) biologist believe the decrease in antelope stems from a disease or virus that has become even more of a problem due to persistent dry weather and poor recruitment, but it's not 100% right now. All they know currently is that numbers are going the wrong way for Texas' pronghorn populations and antelope hunters.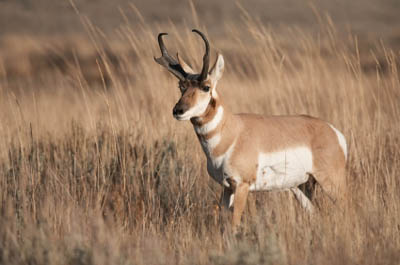 During the past two years, pronghorn populations have plummeted in the Marfa Plateau region. This decrease in antelope has influenced the total Trans-Pecos pronghorn population estimate for 2010, which hit a record low number of animals with an estimated 4,700 pronghorn across the Trans-Pecos region. With numbers holding steady in the panhandle, biologist are hoping to boost breeding pronghorn numbers in the Trans-Pecos by relocating some animals from the north.
Here's the plan: The Wildlife Division of TPWD will lead an effort to trap pronghorn antelope in the Panhandle near Dalhart and move them out to the Marfa Plateau during late February of 2010. As of now, the scope of work involves trapping and transporting about 200 animals and releasing them on management-minded ranches near Valentine in the Trans-Pecos. The pronghorn population in this area has crashed and researchers hope that an infusion of new animals can restore self sustaining antelope herds to this area. The pronghorn decline and reintroduction into West Texas is being studied by TPWD and researchers from Sul Ross State University.
If you love Texas, you will LOVE this video!