About two hundred pronghorn antelope from the Texas Panhandle have gone on vacation. Or better yet, have a new home! Texas Parks and Wildlife Department (TPWD)has reported transporting of 200 pronghorn from the panhandle to the Marfa Plateau—about a 500 mile trip! The trap and transport operation was performed to increase the declined Trans-Pecos herd and help biologists determine why the West Texas herd has been in decline in recent years.
Using net guns, crew members and a chartered private helicopter company would net individual pronghorn from above, then jump from the low-hovering chopper to quickly blindfold and hobble the animal to complete the trapping. Captured animals were then flown to a staging area. Once the animals were lowered to the ground, ground personnel carried each pronghorn to a stretcher for examination and aging by veterinarians and biologists.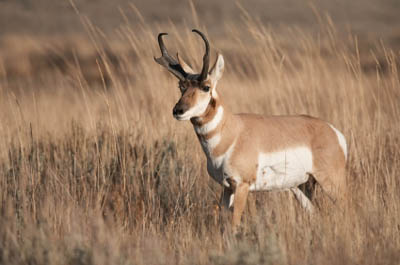 Biologist and vets took each animal's temperature along with blood and feces samples. The pronghorn antelope also received a mild sedative. Then an ear tag was attached. In addition, 80 of the animals received light-weight radio-telemetry tracking collars to monitor their movement. Once this process was completed, which took an average of eight minutes per animal, the pronghorns were placed in hay-lined enclosed trailers for the nine-hour drive from the Panhandle to the Marfa area.
"This is a win-win for all concerned, since removing surplus pronghorns from the northwestern Panhandle will help minimize crop depredation, " said Shawn Gray, TPWD's Alpine-based mule deer and pronghorn program leader. "This relocation is also going to help us try to figure out what has been causing pronghorn numbers in the Trans-Pecos to drop."



This is the largest antelope transfer TPWD has undertaken in decades.
Data gathered during and after the relocation effort will be used by researchers in their effort to determine a reason for the decline in the once-strong Trans-Pecos pronghorn herd. While some 10,000 pronghorns roam the Panhandle, the herd in the Trans-Pecos is estimated at a record low of 4,700 animals. If things go as planned, another 200 pronghorns will be trapped in the Panhandle and relocated to West Texas next year.
If you love Texas, you will LOVE this video!