The drought of 2011 has been rough on Texas' plants and animals, but among the hardest hit is the bobwhite quail. This upland game bird is highly correlated with quality native grasslands, but both are on the decline. Low amounts of precipitation mean poor habitat quality and below average quail hunting. And the drought is only compounding matters because of low soil moisture, overgrazing by livestock, little plant growth and seed production and low nesting success.
"We've been on point monitoring quail declines well before this current drought," said Clayton Wolf, Wildlife Director for the Texas Parks and Wildlife Department. "We've been taking steps to address the problem of low quail numbers and declining habitat, but the drought is raising the sense of urgency."
The Breeding Bird Survey (BBS), an annual field census survey used to track quail productivity, shows a decline in Texas bobwhite quail breeding numbers at a rate of 3.9 percent per year from 1970 to 2009. Texas bobwhite harvest has declined by 80 percent over the past 30 years. Although this population decline is not as steep as seen in southeastern states, it is still cause for concern.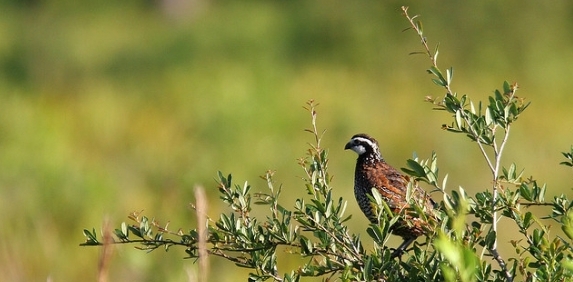 Many reasons are cited for these declines, but evidence points to changes in the quantity and quality of quail habitat as the leading cause. The topic has broad relevance, because grassland habitat used by quail is important for many of other wildlife species. Proper management can have big, cumulative effects because grassland habitat can affect water quantity and quality for people, as well.
"For all of us who care about the future of this prized game bird and the habitats it occupies around the state, complacency is not an option," said Carter Smith, TPWD Executive Director. "We need hunters, landowners, government agencies and non-profit groups all making this a priority in order to advance the recovery of this species. Rest assured, the department will do its part."
While TPWD wildlife biologists are focusing their efforts on assisting landowners develop habitat-based management strategies that can benefit quail and other grassland wildlife, the department is also taking action in other areas, including possible changes in quail hunting regulations.
Potential changes in season length and bag limit framework for the 2012-13 hunting season will be discussed during the Texas Parks and Wildlife Commission's November 2 Regulatory Committee meeting in Austin. Over the next few months, the TPWD Wildlife Division's upland game bird staff and technical committee will review season length, bag limits and the possibility of regional differences for quail season to determine if modifications to the 2012-13 seasons are warranted.
Wolf said regulation changes alone won't solve the problem. "But, we can look at a variety of approaches to address quail management, including regulations," he said. Good news is that in one area of the state, the Gulf Prairies and Marshes region, quail numbers this year have actually risen due to proactive habitat management and adequate weather conditions.
Even in areas of the state where quail numbers have dropped considerably this year, particularly the Rolling Plains region in North Texas, there are still pockets with huntable numbers of bobwhites. But, dry conditions this year contributed to major wildfires that consumed millions of acres of vegetation. Quail production in the Rolling Plains hit an all-time low, according to this year's BBS, and biologists say every bobwhite that survives the winter will be critical to next year's production.
"Burned areas will likely provide good habitat after future rainfall events but for now they offer very little cover for quail and other wildlife," said Robert Perez, TPWD's upland game bird program leader. "We're advising landowners if you are seeing low quail numbers on your ranch, you should consider reducing quail harvest. It's okay to hunt, work your dogs, but take a conservative approach. Flush a covey only once and don't chase the singles or pairs, or limit how long you hunt."
Perez also encourages quail hunting early in the season, which runs from October 29 through February 26. Find the best pockets of habitat and there should be at least a few birds to chase. In addition, consider habitat management practices that can improve quail plants on your property to increase available habitat and bird numbers.
If you love Texas, you will LOVE this video!